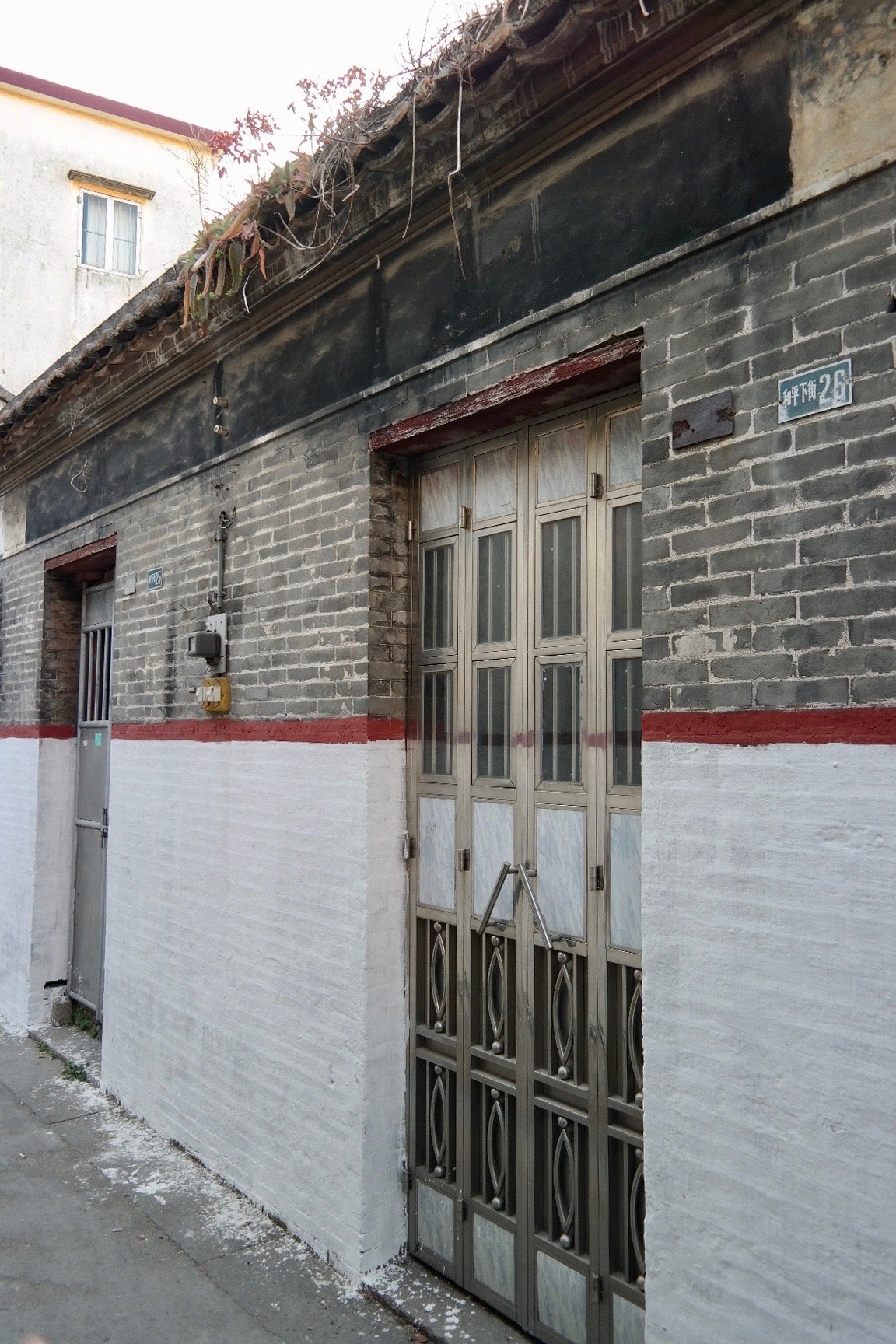 King Fong's father's house in Duntao
King Fong's father's house in Duntao is a modest single-storey brick structure, connected duplex-style to an identical house belonging to a distant relative. On the façade (front) of the building, a decorative frieze runs along under the eaves. The painted design has weathered badly. The middle portion of the frieze, possibly containing religious images, was covered with black paint (or plaster) during the Cultural Revolution. The houses are presently unoccupied and used as storage space.
The houses are located in a laneway very close to a small plaza, on one side of which is the Fong clan's ancestral hall. As well as being a space where the clan's ancestors are honoured, the hall acts as a community centre, especially for older clan members who socialize there during the day. The hall is likely to date back to at least the 19th century but has undergone periodic restorations. During the 20th century the interior walls were painted white, covering over the former wall paintings which very likely decorated them. A chequer-pattern terrazzo floor has also been added.
There are few 'new' buildings in this part of the village. Close to the ancestral hall, however, is a building erected in 1970 which now has a 'corner store' on the ground level and several former offices on the upper level. The building's heritage value lies in it being a good example of the late Mao-era public architecture which is rapidly disappearing from villages and towns in China in the face of rapid development.
During his trip to the village, with his wife and daughters in 2010, King Fong was warmly welcomed by his elderly cousins and fellow villagers.
Suva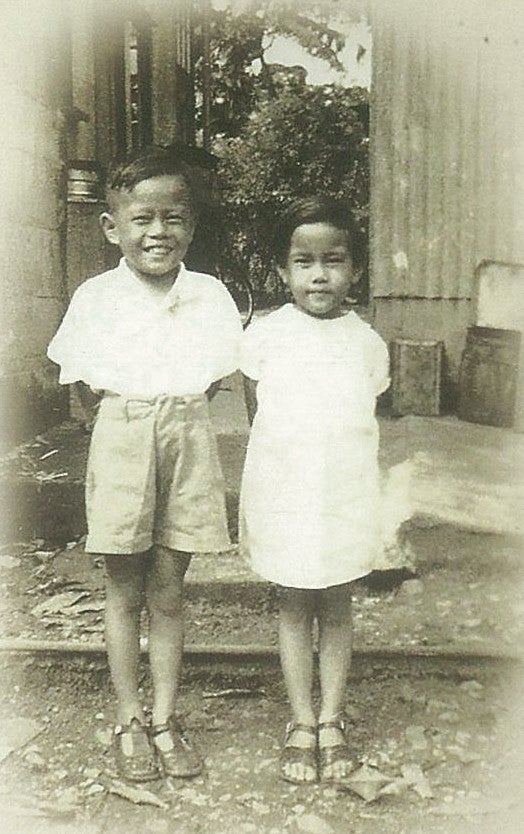 King Fong and his sister in Fiji
When King Fong was born in Suva in 1938 his parents had already been there several years, having migrated from Zhongshan, via Hong Kong. The fact that Fiji was a British colony made it easier to migrate there if you went via Hong Kong. King's family had a mixed grocery store and milk bar in Suva. They manufactured confectionary, including Minties to sell in the shop and they had a farm with chooks, ducks and pigs. King received education in both English and Chinese (Cantonese) at the Fiji Chinese School which was built with donations from Chinese Fijian businessmen. There were also small Chinese temple or shrines.
During the Second World War the Americans had an army base just opposite his family's shop. "So, every night I had the privilege of walking over to look at the war news reel, and in the day time while I'm at school they come over and get lunch, hamburgers. They taught my mother how to cook hamburgers. And the better part is that it cost a dollar a hamburger and they give you a dollar tip." Because they Japanese had reached the Solomon Islands, King's father built an air raid shelter on their property.
Sydney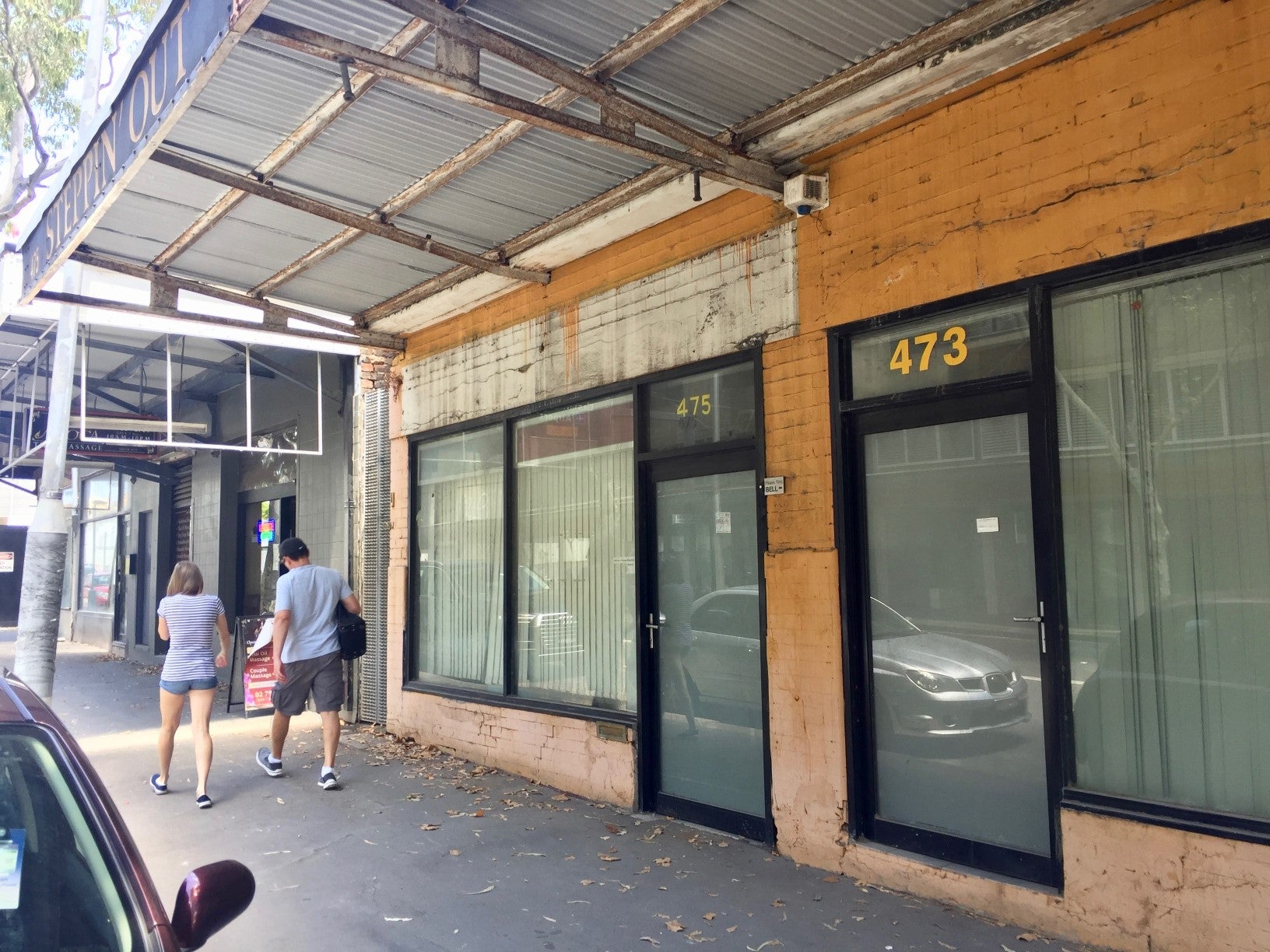 The former Fong family's shop in Harris Street, 2018
King was eight years old when he moved to Sydney. His family bought a fish and chip shop at 475 Harris Street in Ultimo and lived in the upstairs rooms of the shop. Between 1946 and 1956 he studied at Ultimo Primary School, then at Glebe Central Junior High School and North Sydney Technical High School. King adapted well to Australian life. He was the vice-captain of the school ruby team and enjoyed playing tennis with other Australian-born Chinese during the weekend.
In 1949, his father opened Say Tin Fong & Co, selling Chinese groceries, kitchenware, and arts and crafts on a wholesale and retail basis. He first rented premises at 56-58 Dixon Street in Haymarket and in 1951 bought the building for 27,000 pounds. Although the shop sold Asian groceries, its interior remained Western in style. King Fong recalls that his family did not have the money to renovate it to a Chinese style. His father turned the upstairs of the building into a lodging house for Chinese male boarders. There were 92 rooms, each was 3.5 by 3.5 metres in size.
King was general manager of the store from 1958 until his retirement in 1986. The business had been running well, customers from different states were buying from King's family store and he imported 200-300 cases of goods from Hong Kong each month. However, in 1985 the building was destroyed in a fire caused by a driver by accident. King's family subsequently sold the building, which was then turned into the Sussex Centre, a modern shopping mall in the heart of Sydney's Chinatown.