Chee Win LEE (1880-1951) came to Australia in the late 19th century and established a grocery business in Sydney. His ancestral village was Xin Cun (Cantonese "Sun Chun" or New Village), located just south of Shekki, Zhongshan's main town. In Sydney, Chee Win Lee opened a grocery shop at 82 Harbour Street. The shop was named Yet Shing & Co and was in a single storey building containing several other shops. The building remains standing today (although with different shops in it).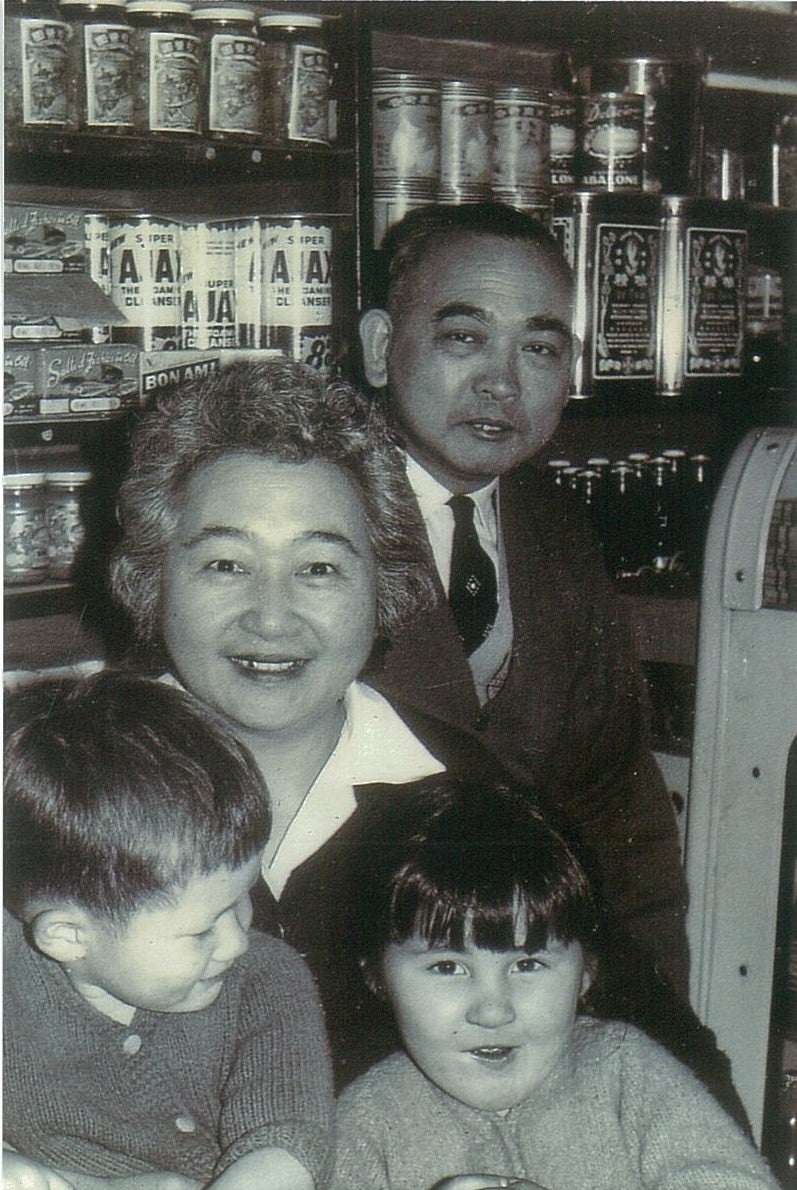 Wah Hook and Doris with two grandchildren at the family grocery store in Haymarket
Chee Win returned to Zhongshan when he was 30 and there in 1910 he married See Ying WONG who remained in Shekki when he returned to Sydney. On this visit (or a subsequent visit), Chee Win bought a shop in a building 86 Yuelai Road, one of Shekki's main streets, and built a house nearby at 46 Mei Ji Street, both of which are still standing and owned by his descendants in Sydney. When the Japanese invaded Guangdong in 1938 Chee Win returned from Sydney to Zhongshan and brought his wife and daughter back to the safety of Australia.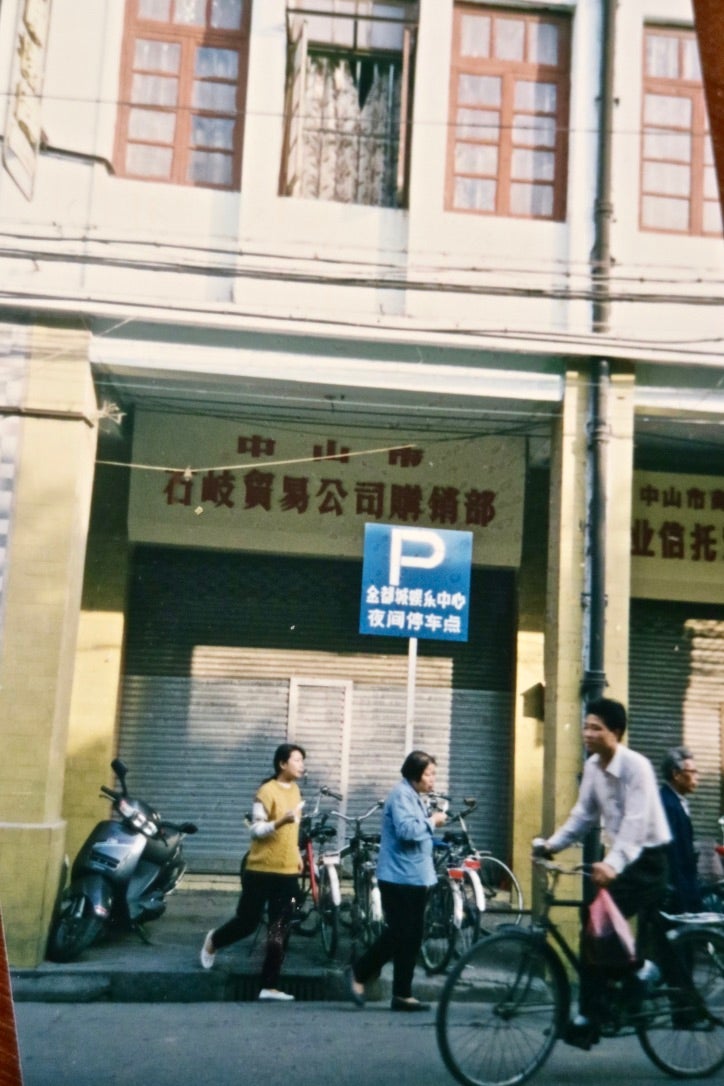 Chee Win Lee's shop in Shekki, 1980s
See Ying and Chee Win's son, Wah Hook, was born in Shekki in 1911 and went to school there. He came to Australia in 1923 to help in his father's grocery shop in Harbour Street. In 1931 he married Doris Gay (1915-2013) and for a time they lived at Doris's family's market garden in Guildford but later moved to a small terrace house in Little Riley Street, Surry Hills, which was walking distance from the Haymarket (Sydney's Chinatown) and the family grocery shop in Harbour Street.
The Harbour Street shop sold both Australian and Chinese goods, including bags of rice. The customers were mainly Chinese market gardeners who brought their produce to the fruit and vegetable markets opposite the shop (these markets were demolished around 1980 and the Sydney Entertainment Centre was built on the site, which itself has now been replaced with the Darling Square apartment complex). In the 1951 photo below of Doris and her son William LEE at the shop, stacks of Chinese rice bowls are seen on the shelf behind them. To their left are tins of Peek Freans biscuits while to their right are shelves of cigarettes, tobacco and cigarette papers.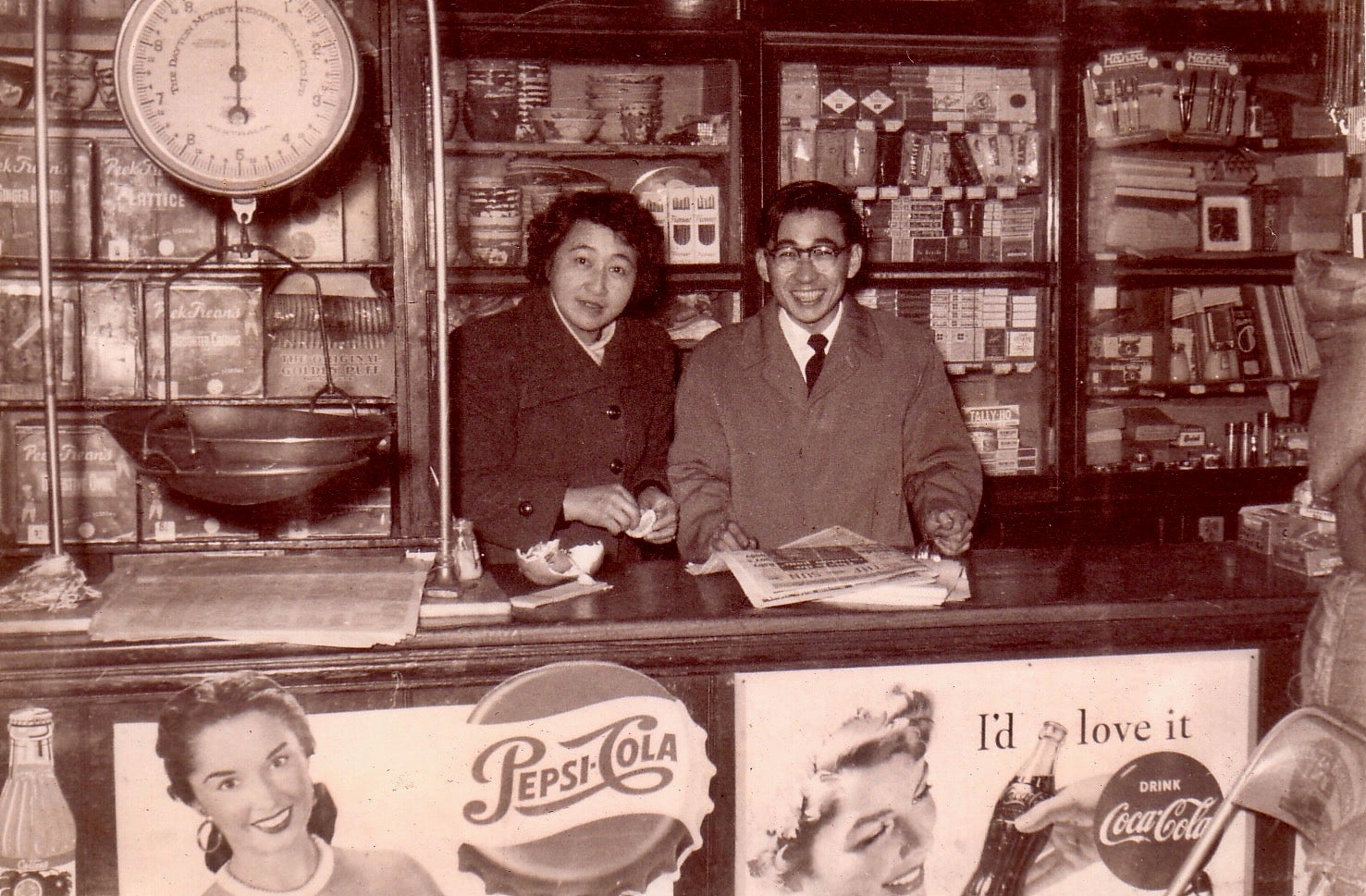 Doris and her son William Lee, at the shop, 1951
Doris and Wah Hook's son, William Lee ('Bill') was born in Sydney 1934. He recalls working in the Harbour Street shop when he was in high school. He married Nancy Logan in 1959, the two having met in 1956 when they were students at the University of Sydney. Nancy recalls visiting the shop in Harbour Street to meet Bill's parents.
Nancy and Bill made their first (and only) trip to Zhongshan in the 1990s and while they were there they visited the site of the shop in Yuelai Road, Shekki, which had been owned by Bill's grandfather, Chee Win. The building containing the shop dates from around the 1910s and has the 'modern' façade of a commercial building of that time, behind which are more traditional architectural elements, such as a partly gabled roof. At some point after the 1970s the building was renovated, in the course of which a new layer of cement stucco (with a plaster finish) was applied to the original surface. Chee Win's shop is now a 'Greedy Cat' takeaway food store.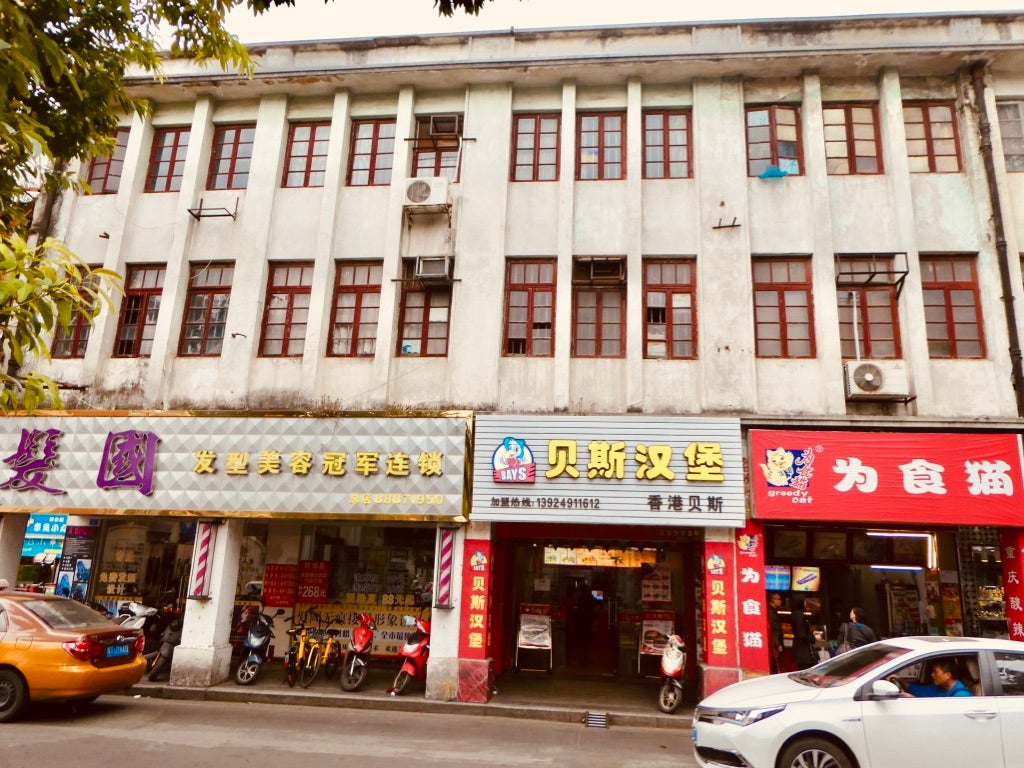 The building containing Chee Win's shop (far right), 2017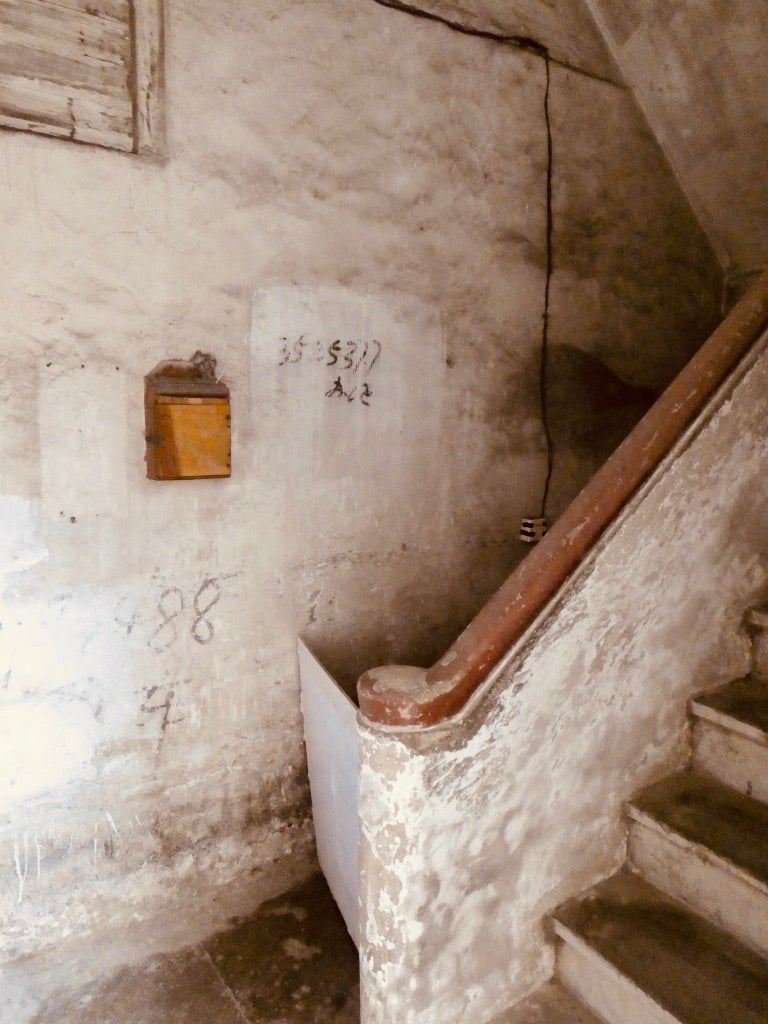 An internal staircase in the building containing Chee Win's shop, 2017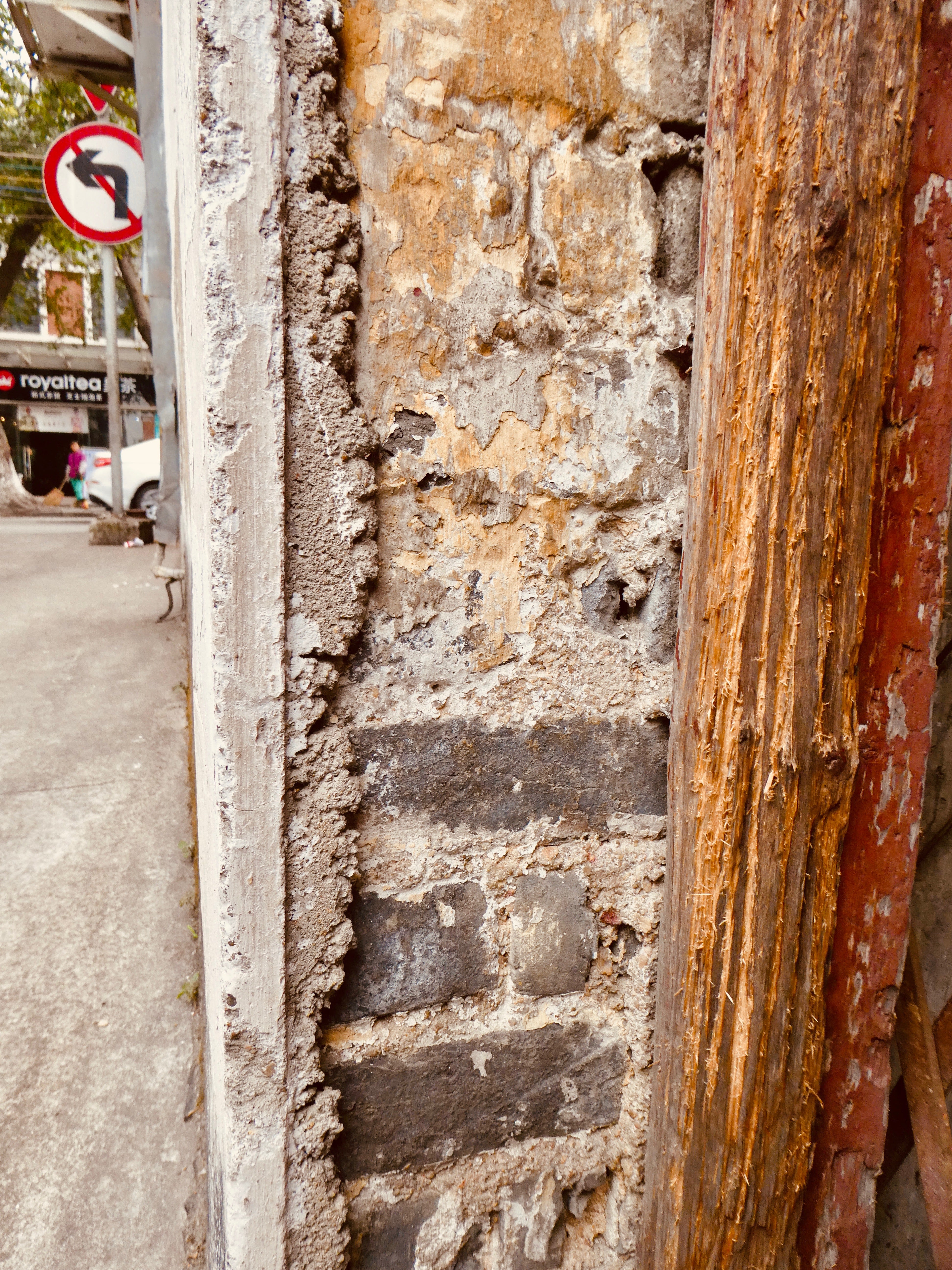 Part of the exterior wall of the Yuelai Road building showing the layer of white-plastered cement render added to the building sometime after the 1970s.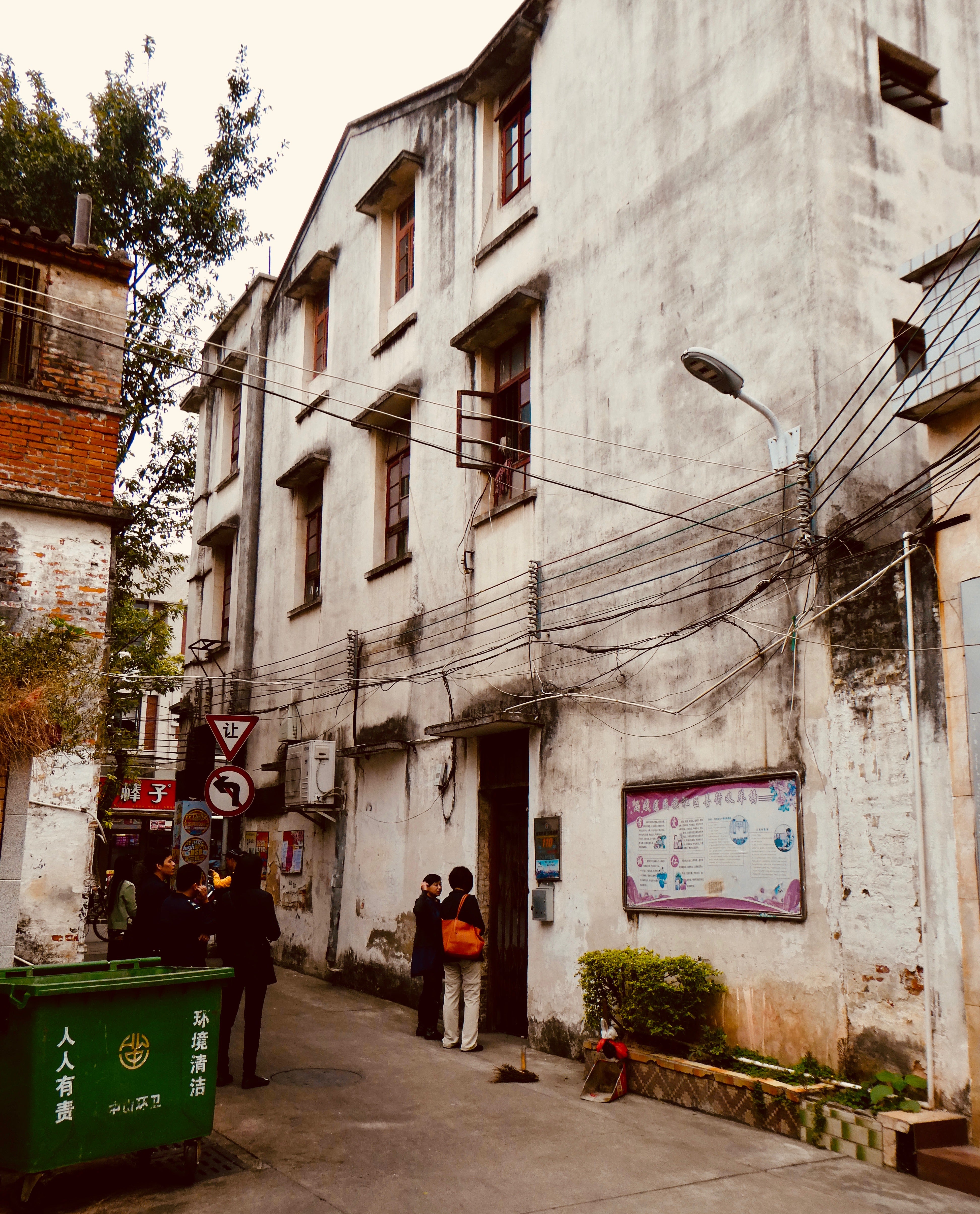 The south side of the Yuelai Road building showing the gable roof behind the flat-roofed façade section. 2017.
The building that housed the Lee family shop in Harbour Street, Sydney, was renovated several years ago. The building was resurfaced in stucco-cement and new aluminium windows were inserted. The original interior of the Lee shop has completed disappeared. The former shop is now the site of a Korean restaurant.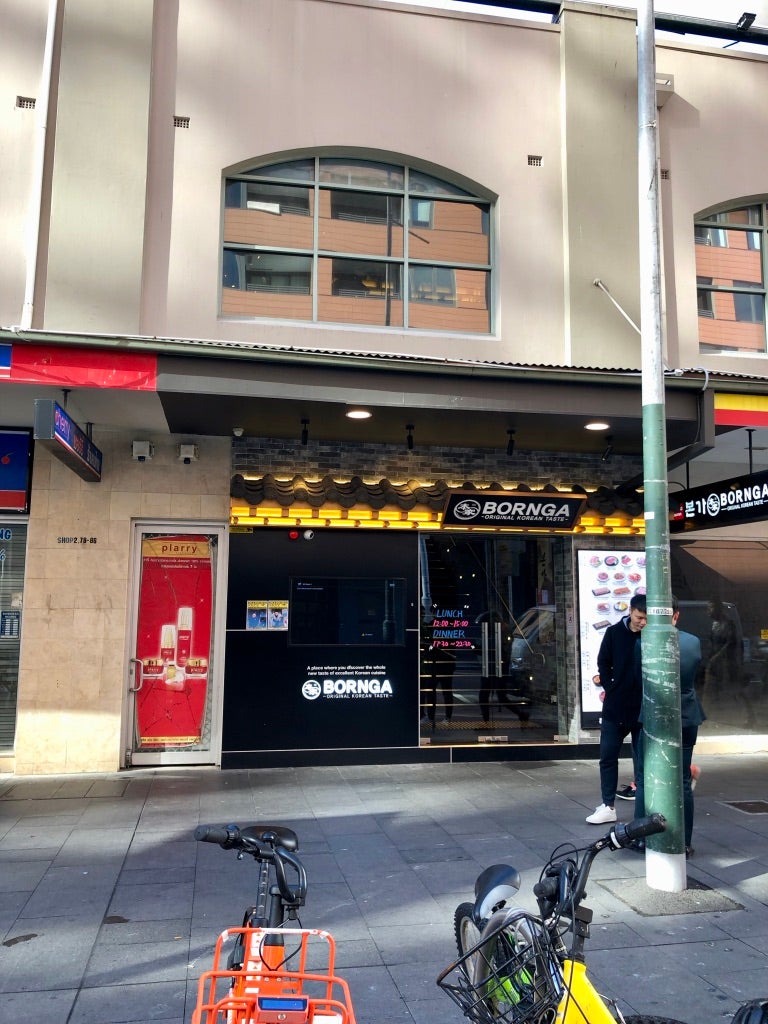 The Harbour Street shop (now a Korean restaurant) in 2019