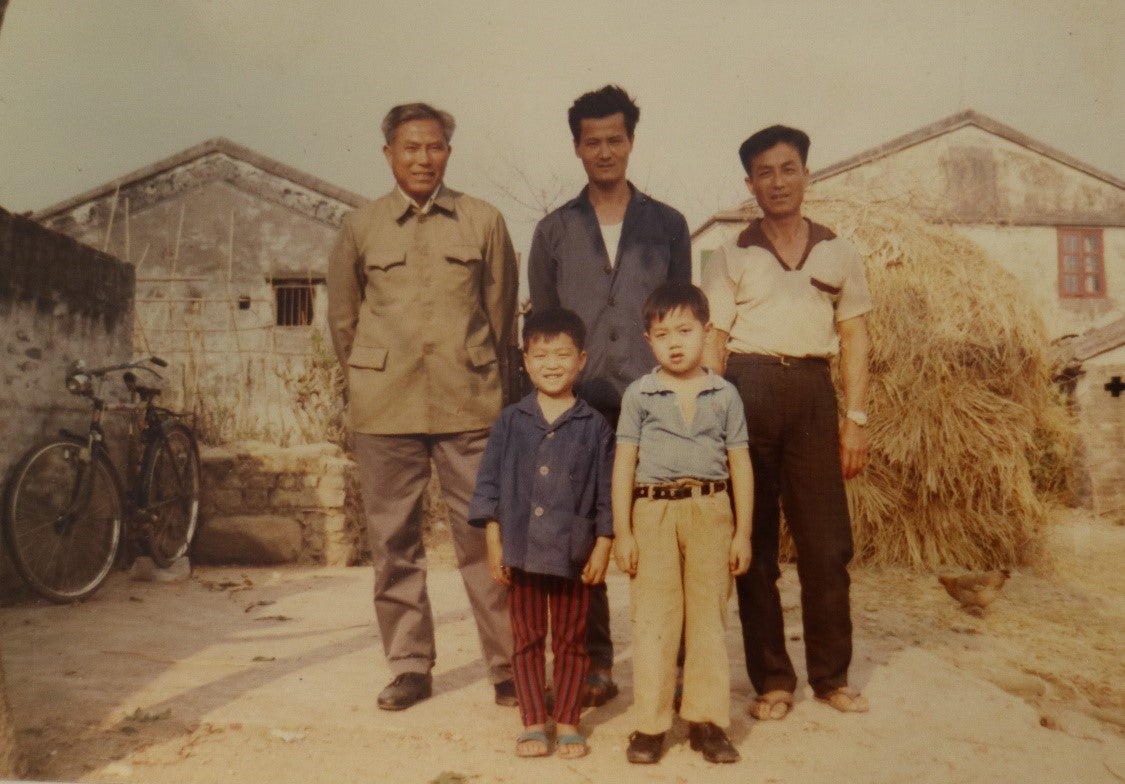 Andrew (front row 1st from right) with his father (back row 1st from left), his uncles and cousin (front row 1st from left) in Duntao village (late 1970s).
Andrew was born in Shekki of Zhongshan County in 1974. His family was originally from the village of Duntao, but they moved to Shekki as Andrew's father worked there as a government official and later at Fu Wah Hotel, the tallest building in Zhongshan during that time. Andrew and his family migrated to Fiji in 1980 when he was six years old. His uncle's (his father's cousin) family were living in Suva and operated businesses there, and they sponsored Andrew's family to move to Fiji. Fiji was a popular country for migration from Zhonghsan, as many Zhongshanese considered Fiji as a stepping stone for their final destination to Australia. Andrew recalled that his family flew to Hong Kong first and then they took a flight to Nauru. Then they waited for a whole day in Nauru for a flight to Suva. Andrew's family operated a Chinese restaurant in Suva after their migration.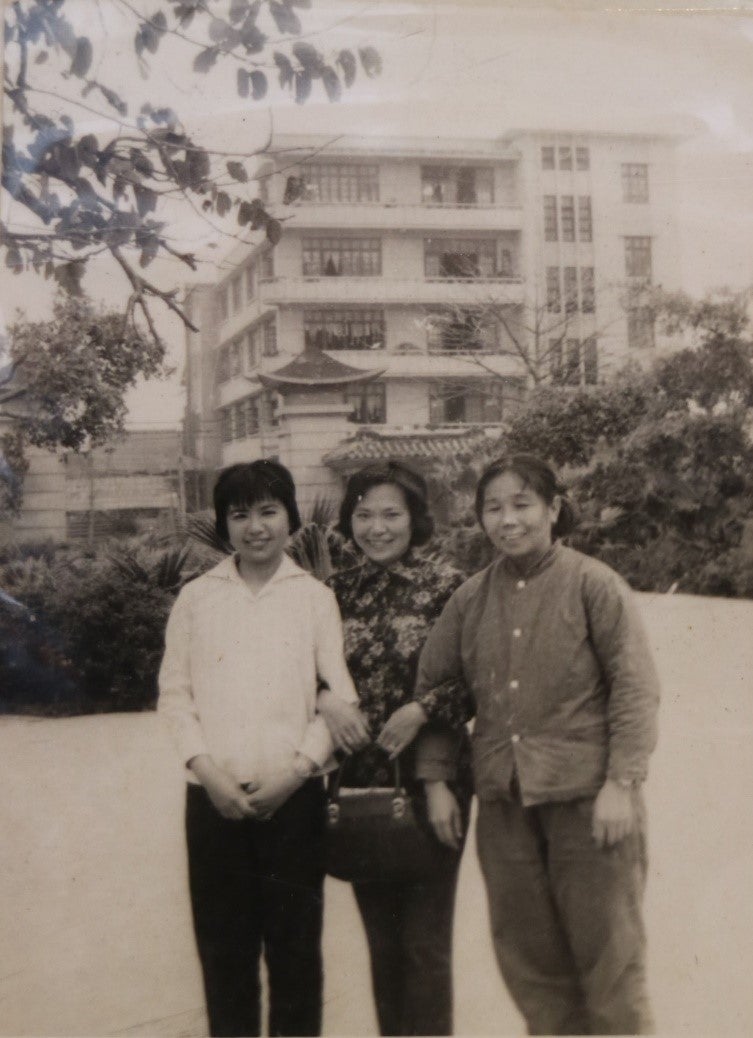 Andrew's mother and his aunts in front of the seven storey Fu Wah Hotel where his father worked in Shekki in the late 1970s.
Andrew spent 12 years in Suva and has fond memories of the place. He started primary school at Yat-Sen School in 1981. The school was named after Dr Sun Yat-Sen and backed by the Taiwanese Government. All the classes were taught in English except the daily 45 minute Chinese class. Apart from Chinese students, the school also had students of other cultural backgrounds such as Indians, Fijians, etc. He said: 'When I came to Australia, that's the thing that I appreciated with my upbringing in Fiji, I came across different cultures, people with different ethnicities, and you get to appreciate different people, different colours and different things'. Andrew still keeps in touch with his schoolmates in Fiji, although many of them also migrated to Australia or New Zealand later.
Andrew Fong studied Year 1 at Yat-Sen School in Suva in 1981.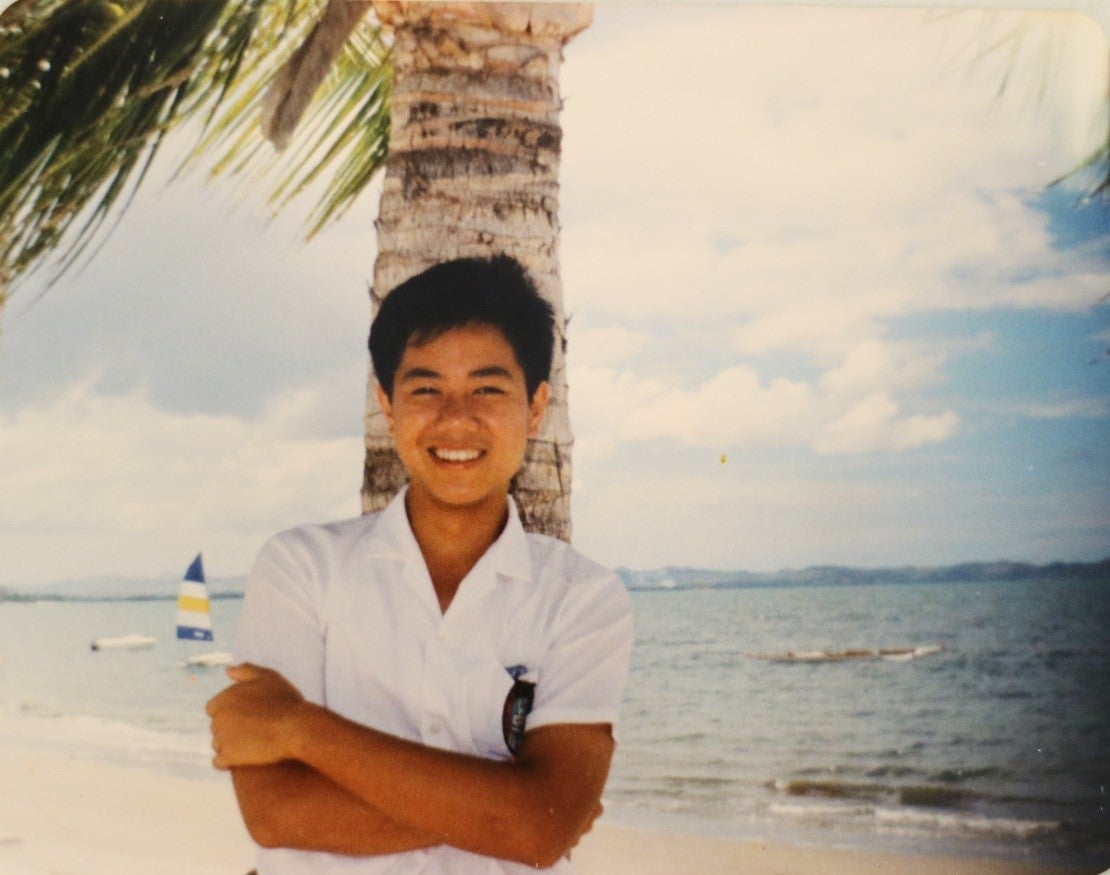 Andrew in Fiji. The photo was taken during an end of year trip with his primary school (1988).
In 1986, a secondary school backed by the PRC government in China was built as an extension of the Yat-Sen School, offering classes up to year 12. Andrew recalls: 'In primary school, every day we had 45 minutes of Chinese class in Mandarin and it was in the traditional characters. When we progressed to secondary school, we started learning the simplified Chinese, which was [supported] by the Chinese government'. Andrew said he was fortunate to study at that school as all his teachers were well qualified, some of them even used to teach top universities in China before they came to Fiji.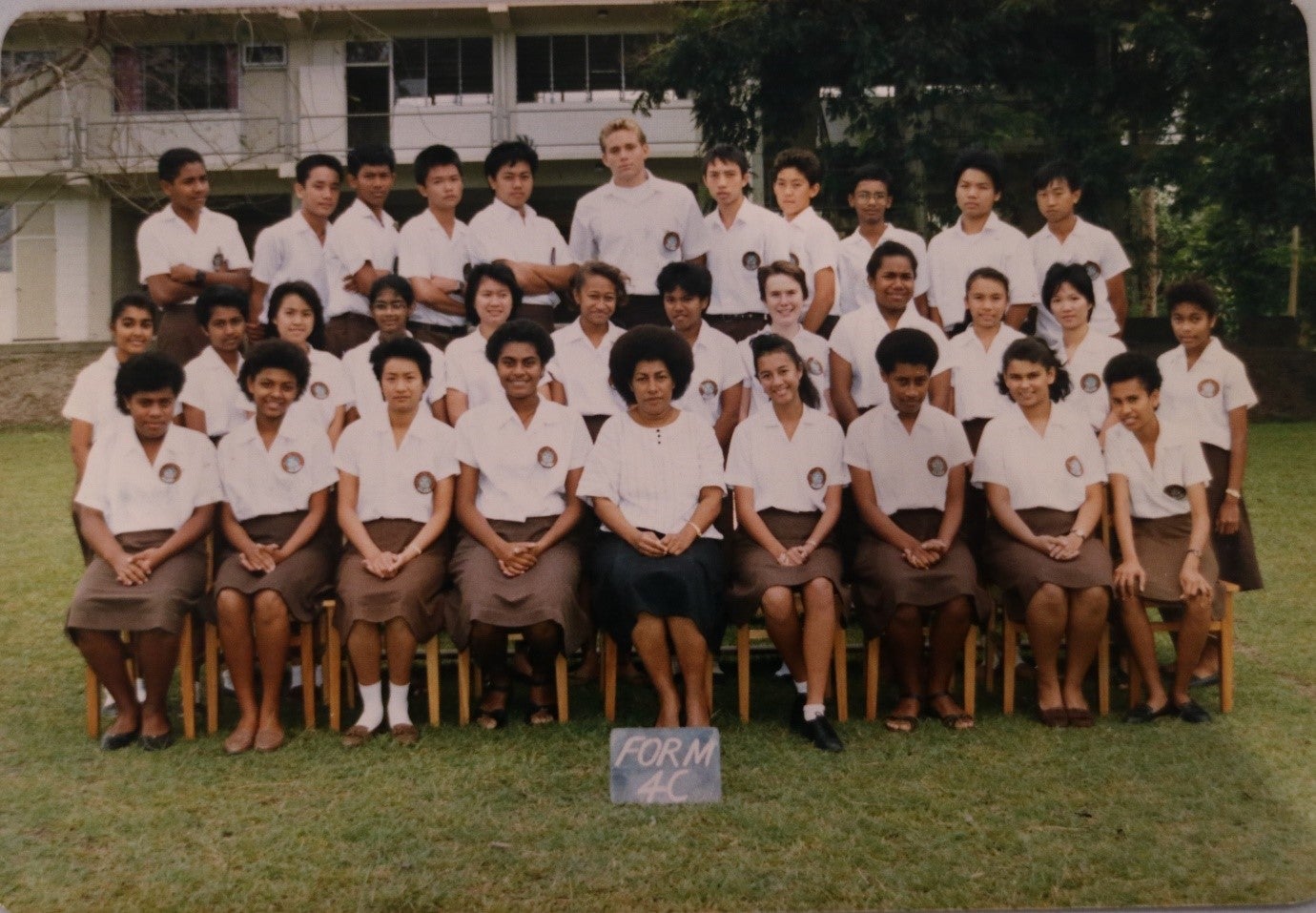 Andrew (back row 5th from left) and his secondary school classmates in Suva in 1990.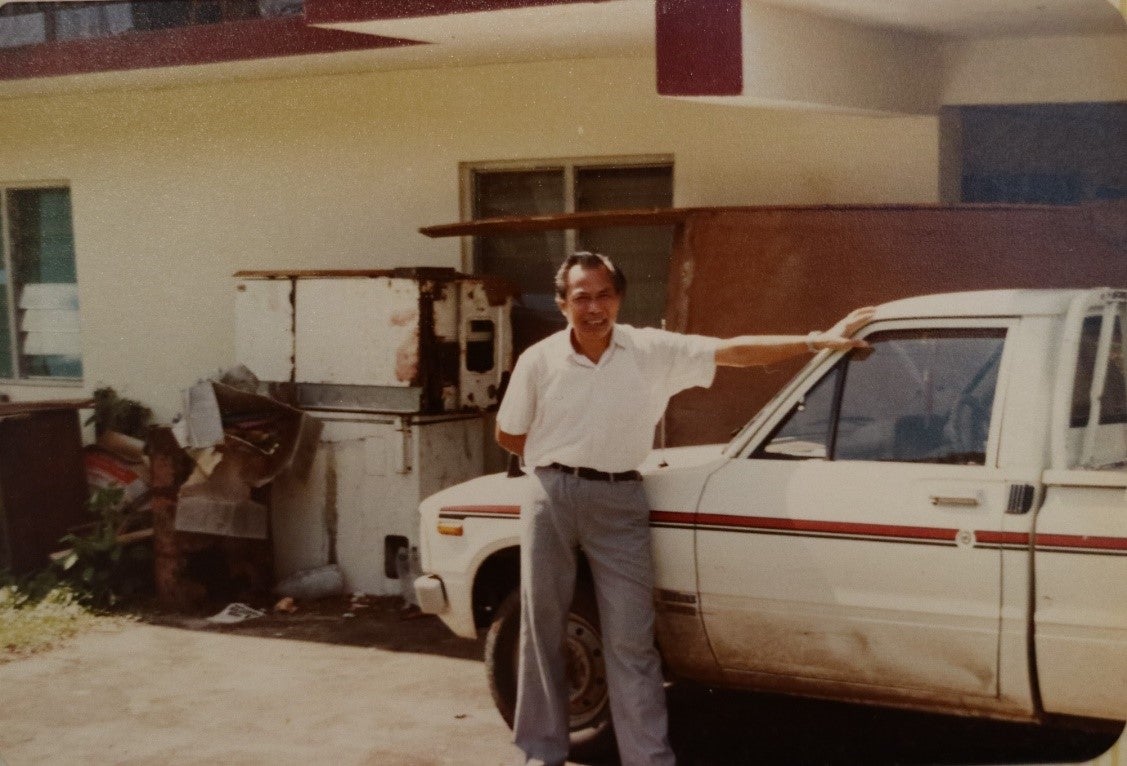 Andrew's father in front of their house in Fiji in the 1980s. The house was a modern building made of concrete.
Andrew migrated to Australia in 1993 with his parents to join one of his sisters who was living in Wollongong. Describing his first impression of Australia, 'my first experience was really excited, all buildings and everything's looking so developed'. In the same year, he entered a local high school to study Year 12. 'There were no racial issues', he said, but school life in Australia was a bit of culture shock to him.
Andrew entered the University of Wollongong to study for a Bachelor of Commerce in 1994. After his graduation from university in 1997, he moved to Sydney with his parents and has been working in a major accounting firm and in banks. In 2015, he started his own proprietary company for the distribution and marketing of a brand of Ginseng products in Australia. Andrew is a committee member of the Chung Shan Society of Australia and the vice president of the Australian Zhongshan Business Association. Andrew's wife Florence is from Hong Kong and they have two sons. From time to time, Andrew takes his family to go to Zhongshan and Fiji to visit friends and families and for holidays.
Australia-China connections
Andrew joined the Chung Shan Society in 2007 due to his late father's persuasion. Later, the vice president of the Society during that time invited Andrew to join the committee. He is the English Secretary of the Society and the leader of the youth group of the Society. His responsibility is to attract the next generation of Zhongshanese to the society. However, he admitted that attracting young members is a challenge faced by many community organisations. 'There's actually a lot of time involved in events and the day to day running of the organisation… it's quite difficult to ask people of my age to get involved in…we all work and have a young family …' In spite of this, Andrew believes that joining the society can '[give] opportunities to developing networks and broaden your networks with all the associations'. In fact, Andrew met his business partner from Malaysia, who introduced him to the Ginseng business, at a conference in Guangzhou where he was a representative of the Chung Shan Society.
Andrew is also the vice president of the Australian Zhongshan Business Association, a new organisation formed in 2015. Occasionally, he hosts business delegates from Zhongshan.
Return trip to China
Andrew and his parents did not go back to Zhongshan when they were in Fiji as flight tickets were very expensive back in the 1980s. The first time Andrew went back to China was with his parents in 1996, three years after they had migrated to Australia. Andrew's parents wanted to visit their families and relatives after having left their home town almost 20 years earlier. They went back to Shekki and the village of Duntao. Andrew visited the kindergarten he attended and met one of his old teachers. Speaking of the experience of his first return visit, he said: 'What really amazed me was at that time everything seemed so huge. When I actually went there, it was only like tiny...' During that trip, they also visited his father's relatives in Hong Kong, another uncle in Macau and the ancestral village of Duntao.
Andrew still travels to Zhongshan from time to time, mainly for visiting relatives. However, he said sometimes he feels like an alien there because he's used to 'life in Australia' and he said 'even in Zhongshan, at the shops and restaurants, the conversation is in Mandarin rather than in our own dialect which is what I prefer'.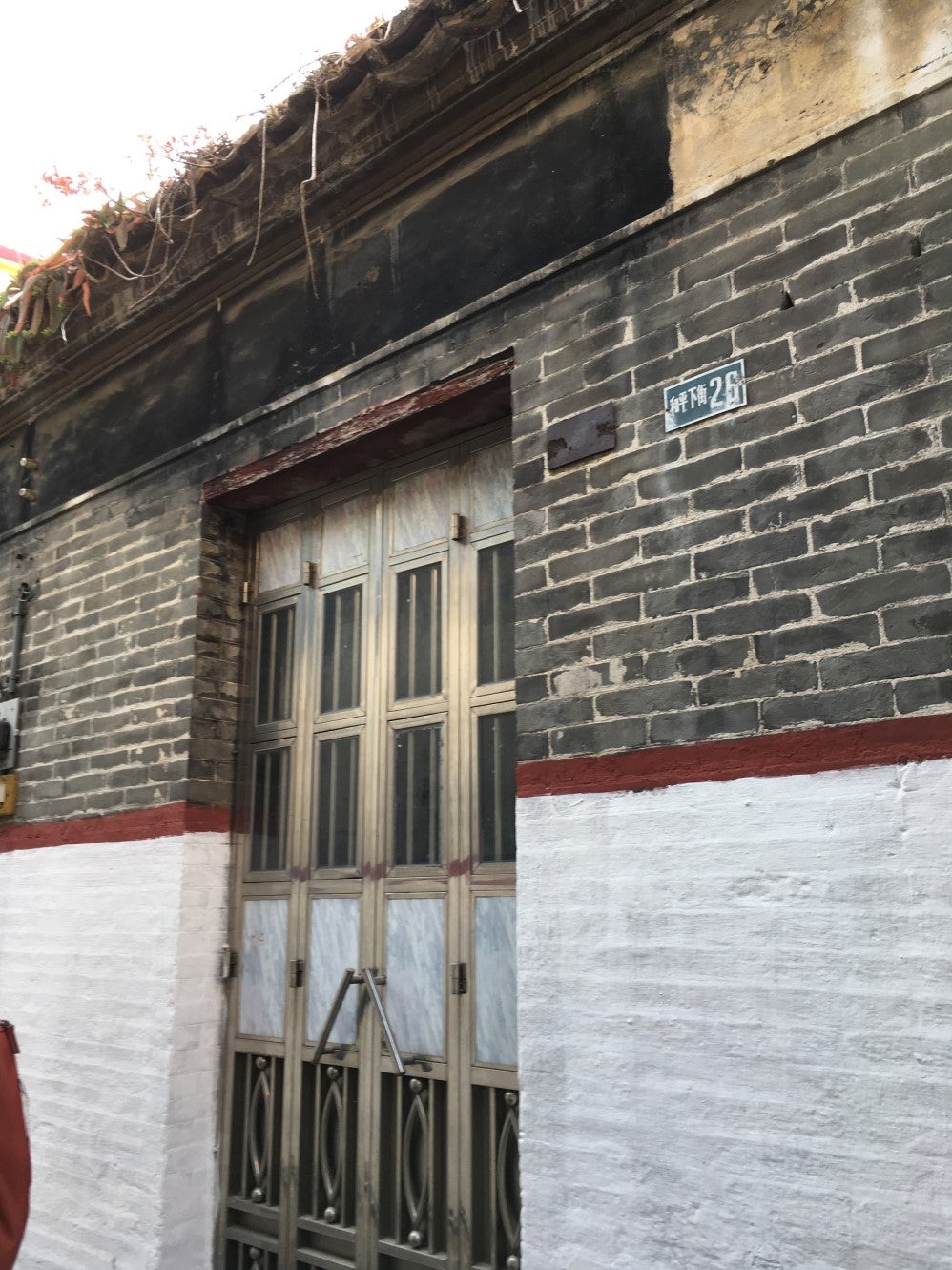 Andrew's ancestral home in Duntao village (2017)
Andrew's family still owns a house in Duntao which is under his late father's name. It is vacant and has been used as storage space. The house is a simple single storey brick house. It was lived in by Andrew's uncle (his father's cousin) before they built modern house next to it. Andrew said he has no plan to renovate or re-build the house as getting the ownership of the house transferred seem to be a difficult process. Whenever Andrew goes back the village, he tends to stay in a hotel.
He also feels a special attachment to Fiji and he goes back there from time to time for re-unions with his schoolmates and for family holidays.