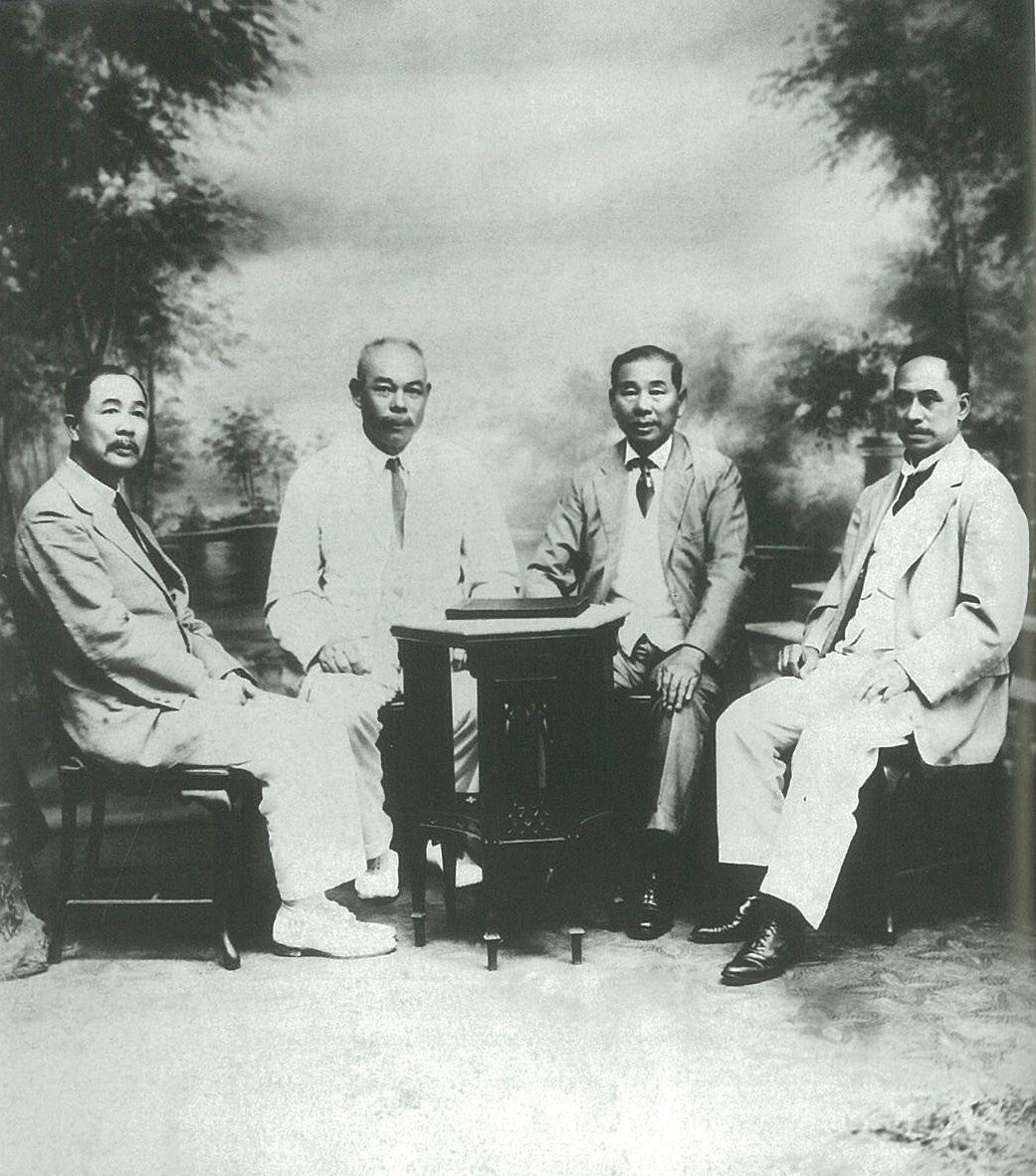 The founders of Wing Sang & Co. (L to R) Wing Charn Ma, George Bew, Ying Piu Ma, Hing Choy (source: City of Sydney Archives: SRC: 19038)
Denise Wing Yin Ma is a descendant of the famous Ma Family from Shachong in Zhongshan, a fourth-generation Australian Chinese, was born in 1953 in Sydney. Her grandfather Joseph Joe Young Ma (馬祖容) was the brother of Wing Charn Ma (馬永燦) and the cousin of Ying Piu Ma (馬應彪), the two founders of the famous Sincere Department Store. Joe Young Ma was born in Shachong in 1869 and grew up there with his siblings. In the late 1800s, he left for Hong Kong and then came to Australia. In 1892, Joe Young Ma was involved in the management of Wing Sang & Co., a general produce import and export company in Haymarket, Sydney's Chinatown founded by Wing Charn Ma, Ying Piu Ma, George Bew and James Hing Choy.
In 1900, Ying Piu Ma borrowed the concept of a department store from Anthony Hordern & Sons in Sydney and started Sincere Department Store in Hong Kong. Around 1913/14, Joe Young Ma went back to Hong Kong to help with Sincere Department Store business there.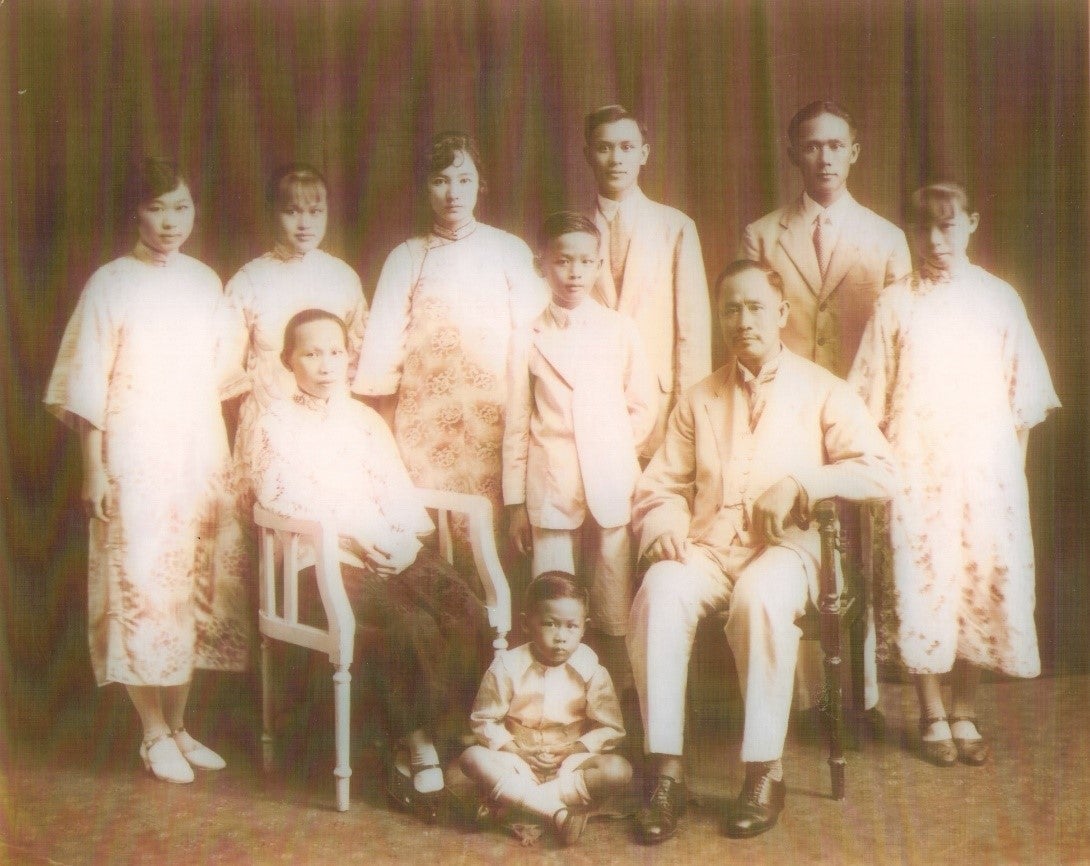 Denise's grandparents Joe Young Ma and Sui Ying Yeung with Denise's father Thomas Hin Wai (standing in the middle) and his siblings (1928). Back row standing: Amy, Eva, Mary, wife of Henry, Henry (eldest brother), Charles (second brother), Bessie. Sitting on the floor: Hin Fong Ma (the youngest brother)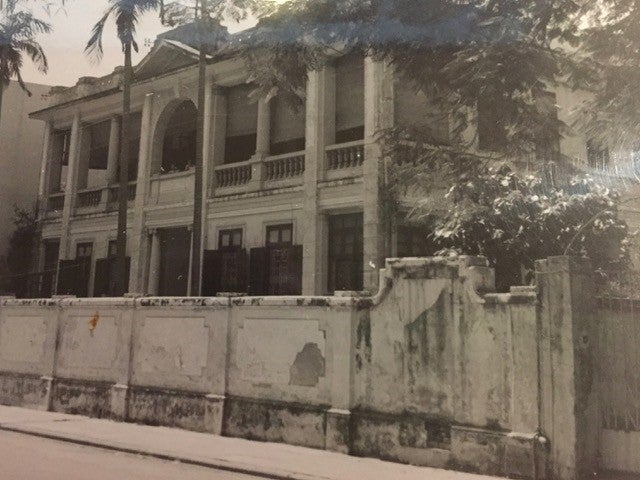 Mansion in Hong Kong on 1 Duke Street Kowloon, built by Joe Young Ma, a replica of Yung Joong Ma's mansion in Shachong. The mansion has been demolished and on the site is now a Catholic school (St Rose of Lima's School).
Joe Young Ma and his wife Elizabeth Sui Ying Yeung (who was born in Shekki in 1884) had seven children, five of whom were born in Australia in the early 1900s. Denise's father Thomas Hin Wai Ma (馬顯維) (born in 1916) and his younger brother Hin Fong Ma (馬顯芳) were born in Hong Kong. Joe Young Ma had a mansion on 1 Duke Street in Kowloon Tong (now demolished and turned into a Catholic school), which was a replica of his father's mansion in Shachong. His father's name was Yung Joong Ma (馬恩重), born in 1840.
Thomas Hin Wai Ma left Hong Kong for Sydney in 1935 when he was 19 years old. He worked for the family business Wing Sang & Co in Haymarket for many years. In 1963, Thomas bought a subsidiary of the company, Wing Tiy & Co (永泰), a business importing bananas from northern NSW for the wholesale markets on 93 Hay Street. He operated Wing Tiy until he sold the business a few years later after the growers' market moved to Flemington in 1975.
Joseph Joe Young Ma and Elizabeth Sui Ying Yeung outside the Hong Kong mansion in 1948.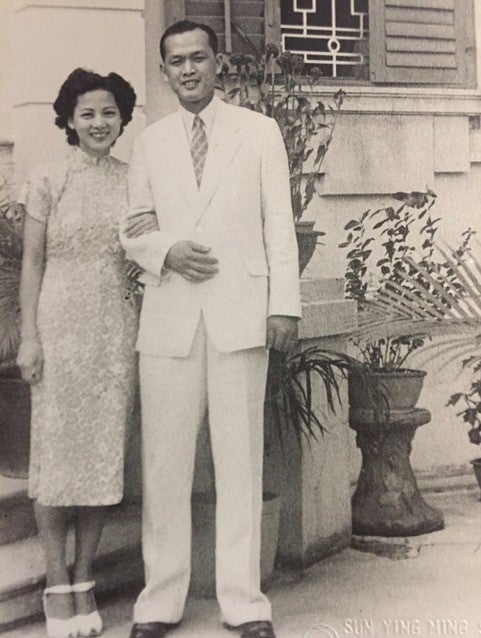 Denise's parents Thomas Hin Wai Ma and Lily Ying Bow Chan outside the Hong Kong mansion in 1948.
Thomas was married to Lily Ying Bow Chan who was born in 1923 in Darwin. Lily's family was originally from Liu Cun (六村) of Taishan (台山) in Guangdong province. Her grandfather left China and came to Darwin during the gold rush period around the 1870s. He ran a business importing supplies from China and worked as a tailor to make linen suits for the parliamentarians in Darwin. Lily returned briefly to China with her parents and her eight siblings when she was five years old and stayed there for three years to receive Chinese education.
Thomas and Lily met in Sydney at the Ying Wah Tennis Club (forerunner of the NSW Chinese Tennis Association), a tennis club run by the Chinese community that organised tennis tournaments in the 1940s. They married in 1948 and travelled to Hong Kong to meet the Ma family there, but they did not go to Shachong due to the political situation in China and the objections of Thomas' mother. Thomas and Lily have four children: Denise, Gabriel, Jonathan and Matthew. In 1964, when Lily was pregnant with Denise's youngest brother Matthew, Thomas took 11-year-old Denise and her brother Gabriel back to Hong Kong to meet their grandmother Sui Ying Yeung, but Denise and Gabriel did not get a chance to meet their grandfather Joe Young Ma as he passed away in 1963.
Denise has been a school teacher for 40 years, and she now resides in Wagga Wagga. In the past few years, she has travelled to Zhongshan a number of times with her brothers Jonathan and Matthew, and cousins to learn about their ancestral roots. Together, they went to Shachong in 2011 to visit the ancestral home (now turned into a general store) where their great grandfather Yung Joong Ma was born, and Yung Joong Ma's mansion (now turned into a cultural centre), which was a few houses away from the famous Ma Mansions owned by Ying Piu Ma in the Ma Gong Memorial Park.
Australia-China Connections
Denise describes her connection to China as largely intangible. She recalls that she and her siblings were brought up in a traditional 'Chinese' way. She said 'We had a very very Chinese upbringing in terms of connection to these places [Australia and China]. It was all about family. It was all about respect'. Denise's parents insisted that she speak Chinese (Cantonese) and she did not learn English until she went to school.
Growing up in Australia in the 1960s to 1970s, Denise admits that she felt embarrassed to acknowledge her Chinese heritage when she was young. 'You did everything possible to hide the fact [her Chinese heritage], you can't hide your looks but just in every other thing you did, you just weren't Chinese', she said. Denise has experienced racism on several occasions, as she was treated differently because of her Chinese ethnicity, but she said, 'it was quite covert', rather than the open name-calling that took place in her mother's generation. However, since Australia has turned to multi-culturalism where cultural differences are recognised and valued, she is now 'equally proud of being Australian as I am of my Chinese heritage'.
While living in Strathfield during her childhood, Denise and her siblings also spent a lot of time in Chinatown. Apart from visiting her father's fruit wholesale business on 93 Hay Street, Denise and her siblings came to her maternal grandparents' residence and shop on 82 Campbell Street in Surry Hills for family gatherings. It was also part of her family ritual to visit Rookwood Cemetery every Sunday, to pay tribute to ancestors buried in the cemetery. Denise said: 'My mother's very strict Chinese adherence to honouring your ancestors—the way you did that was making sure there were always fresh flowers on this giant urn'.
Being a fourth-generation Australian Chinese, Denise admits that she did not have a very strong connection with her home village and with Zhongshan, at least before her first visit to Shachong in 1983. Her return journey made her more interested in her family history and China. She is now learning Mandarin, and she also teaches her toddler grandson a little bit of Cantonese.
She also mentioned that her other remaining Australia-China connection (the tangible one) would be the few shares that she and her brothers still own in Sincere and Wing Sang and the annual reports of Sincere (Hong Kong) that she receives regularly.
Return Journey
Denise's first return journey was in 1964 when her father Thomas brought her and her brother Gabriel to Hong Kong to visit their grandmother when she was 11 years old. She still remembers staying at her grandfather Joe Young Ma's mansion in Kowloon Tong. It was also the only trip that his father had taken to Hong Kong before he passed away. Nor did he ever return to Shachong since this trip. Denise thought the reason would be 'he was really tied up with providing for us whatever it was he could'. Denise's mother never visited Shachong before she died in 2017, though Denise reckoned that it would have been something she would have liked to do.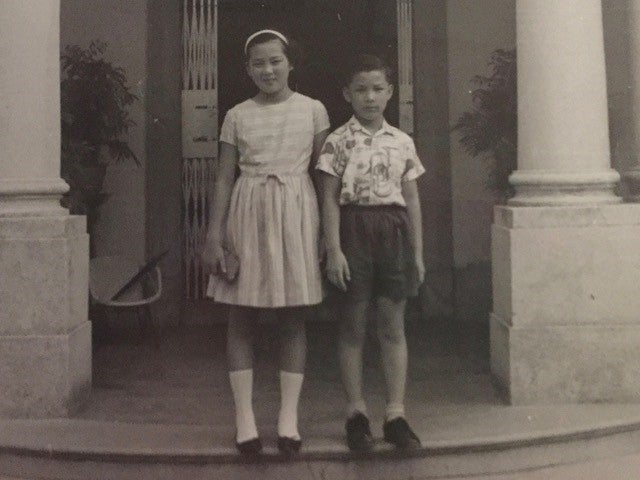 11-year-old Denise and her brother, Gabriel Sui Kui Ma, outside the Hong Kong mansion in 1964 when their father took them back to Hong Kong to meet their grandmother.
The first time Denise visited China as an adult was in 1983. She travelled to Hong Kong with her husband and her 1-year-old child and decided to take a one-day trip to visit Zhongshan via Macau. They travelled to Shekki with a tour guide who took them to her ancestral village Shachong. Denise described her first experience in Shachong, 'I remember, I was blown away' as 'they knew my family and I could actually converse with them in Chinese'.
After her first visit to Zhongshan, Denise always wanted to return to the village, but she did not get a chance to revisit Shachong until 2011. This time, she travelled with her two brothers Jonathan and Matthew and a cousin who had been in Shachong before. Together they went on a 'discovery tour' to 'learn these connections'. They visited the humble house where their great grandfather Yung Joong Ma was born and the grand mansion built by him. Denise quickly recognised that the interior of her great grandfather's mansion was the same as the one in Hong Kong that she had stayed before in her 1964 trip. The mansion has been empty for a long time until recently; it has been turned into a cultural centre. Reflecting on her return trip, she said' I think the key to it is making connections…we are making a connection to our past, and we love to share it…because it's just exciting.' During the trip, they also met with their relative Lok Shan Mar, mould maker for the famous Charles Schulz cartoon characters (http://www.zs.gov.cn/english/news/view/index.action?id=111867), and visited their mother's ancestral village in Taishan.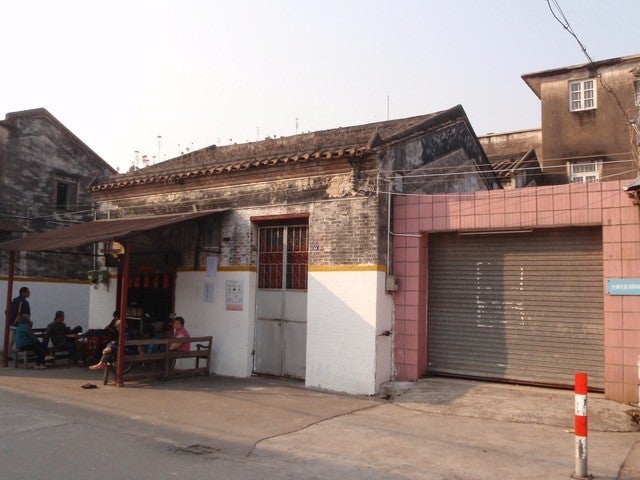 Birthplace of Denise's great grandfather Yung Joong Ma, born around 1840 in Shachong.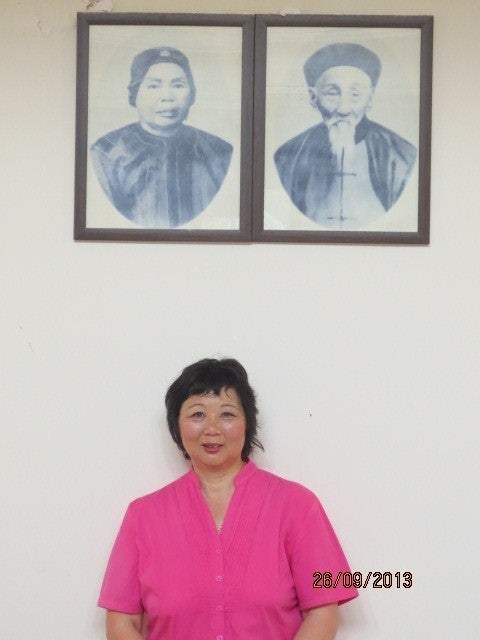 Denise is under the portrait of her great grandfather Yung Joong Ma inside the Ma Mansion in Shachong.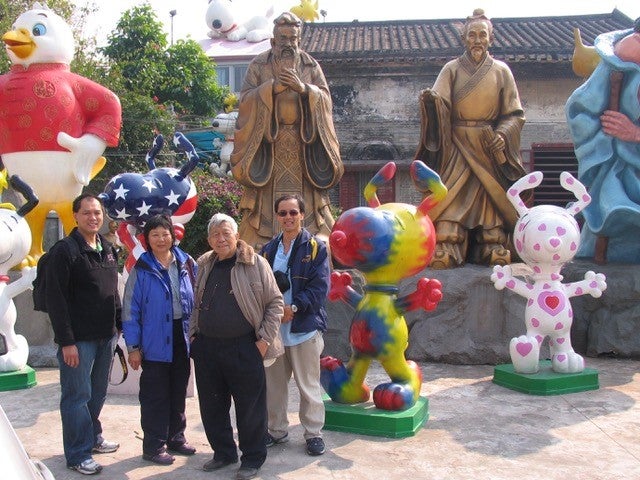 Denise visited Shachong with her two brothers Jonathan Sui Joong Ma and Matthew Siu Hoong Ma in 2011. They met with Lok Shan Mar, mould maker for the famous Charles Schulz cartoon characters (Snoopy) before he passed away in 2014. His house and characters still stand, and the Zhongshan Polytechnic, where he taught cartoon mould making, has a museum of his work.
Most recently, Denise went back to Shachong in October 2018 with nine people from the extended Ma family. During that trip, she interviewed an elder of the village and learned more about the long history of her family, dating back to the 1200s. After that latest trip, Denise changed her last name back to 'Ma' (previously she went by her married name 'Denise Flockton', in Australia). She explained, 'it was on this trip that I decided to reclaim my Ma birth name, due to the increased link I feel to my Zhongshan heritage'.
This trip also helped renew the interest of the extended Ma family in their heritage. In September 2019, the descendants of Joe Young Ma will be gathering in Sydney for a family photo to commemorate the 150th anniversary of his birth.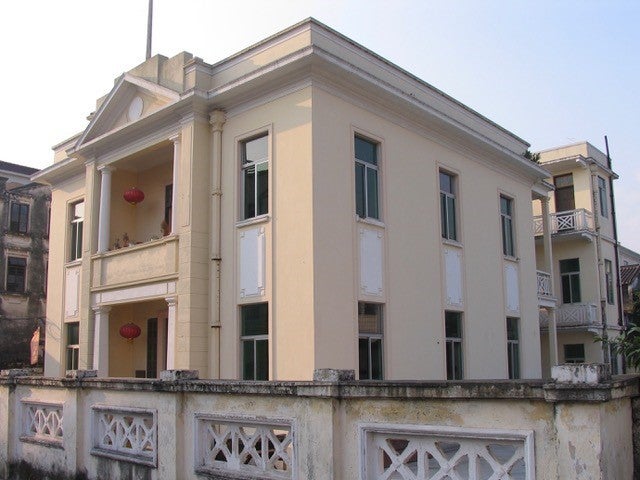 Mansion built by Denise's great grandfather Yung Joong Ma, in Shachong. It has been turned into a cultural centre.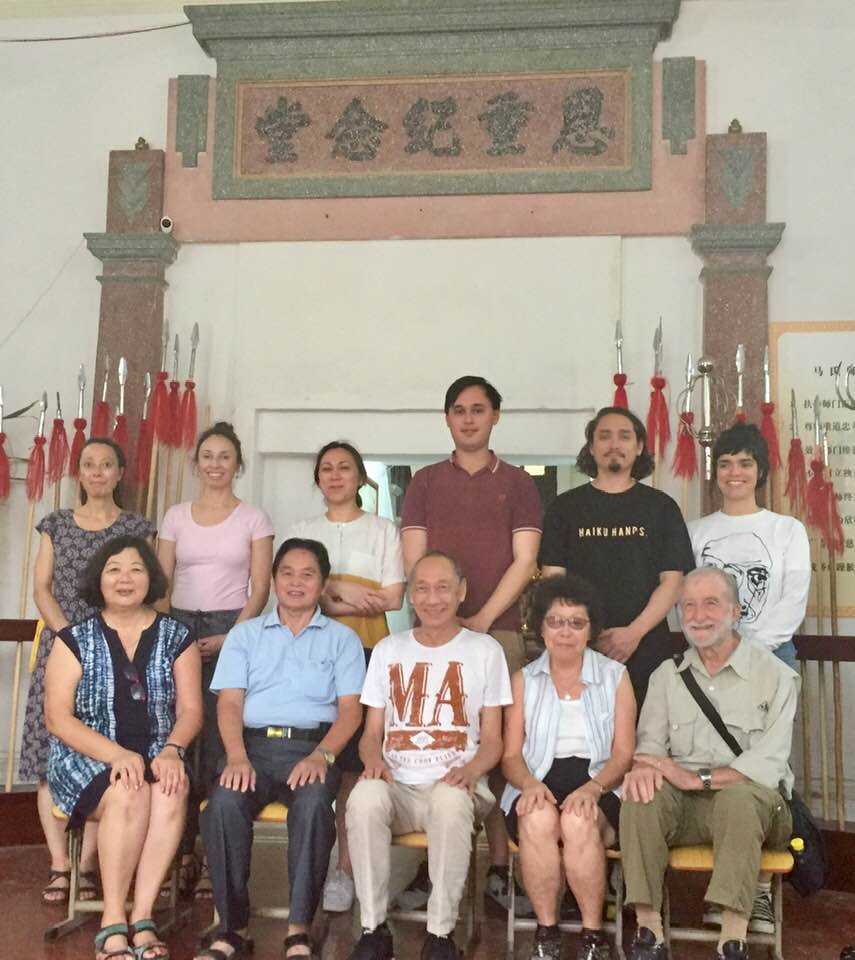 Denise (first from the left, sitting) visited the Yung Joong Ma Mansion in Shachong village with her extended family in October 2018. The Mansion is now a martial arts cultural centre.