Gordon Mar (马国栋)was born in Sydney in 1937. His family was originally from Shachong village of Zhongshan County. Gordon's father Harry Leong Wah Mar (马亮华) and grandfather Sun Gee Mar (马辛已) belonged to the same clan as the two founders of Wing Sang & Co., Joe Young Ma and Ying Piu Ma. Three generations of Gordon's family had managed Wing Sang & Co (fruit merchants and commission agents) in Haymarket of Sydney from the early 20th century to the 1980s.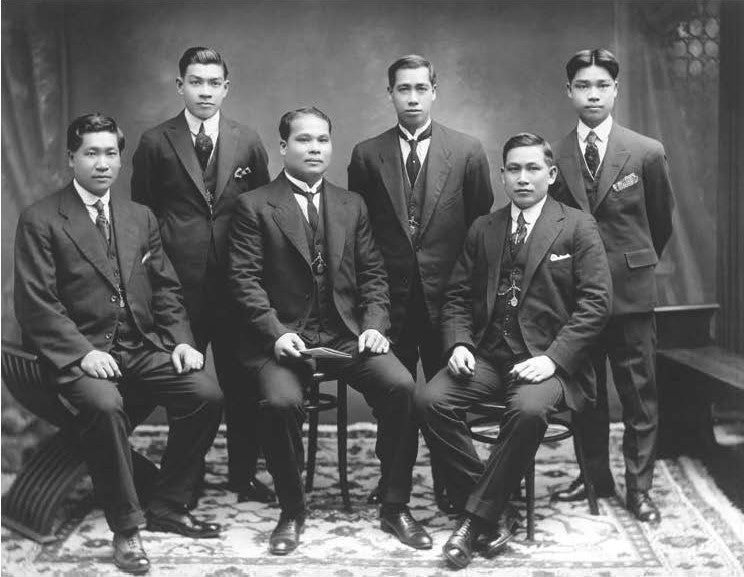 The employees of Wing Sang & Co (1924) (source: City of Sydney Archives). Gordon's father Harry (1st from right standing), grandfather Sun Gee (2nd from right standing); Glenn Mar's father See Poy Mar (sitting in the middle)
Gordon's grandfather Sun Gee joined Wing Sang in 1918 after he left China to seek a better life for his family. He was the assistant manager of the company in the early 20th century. Sun Gee Mar passed away in 1937, he was buried in Hong Kong.
In 1921, his son Harry (born in Zhongshan in 1902) together with his mother Shi Leong (梁玉珍) and sister Alice came to Australia to reunite with his father when he was 18 years old. Harry had good level of English before he came to Australia as he had received bi-lingual (English and Chinese) education in Hong Kong. In Sydney, he completed high school at Sydney Grammar and started working at Wing Sang in 1923. He became the company secretary in 1927 and later the managing director, in 1933. After his father Sun Gee passed away in 1937, Harry continued to manage Wing Sang until his retirement in the late-1970s, after the growers' market moved from the Haymarket to Flemington. Harry was a longstanding supporter of the Chinese Nationalist Party (Kuomingtang). He had been a leader of the Sydney chapter of the party in Australia and attended the party's Convention in Melbourne.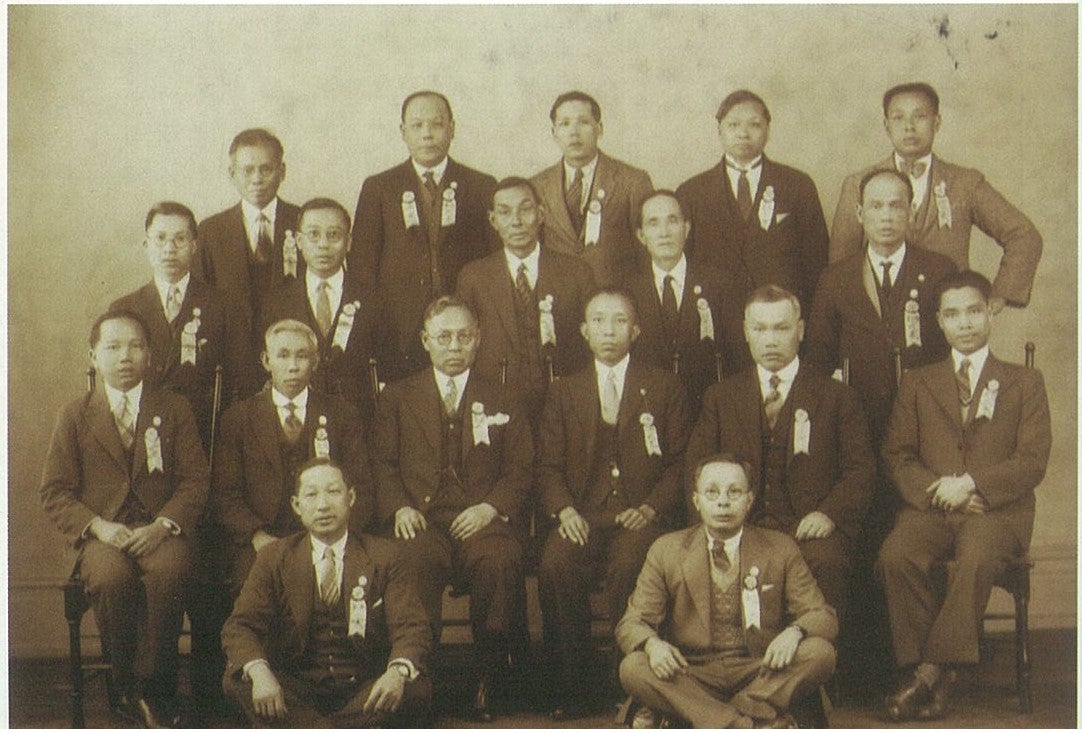 Harry (3rd row, 1st from right sitting) attended Kuomingtang's fifth Convention in 1933
In 1929, Harry returned to Shachong village to marry Grace So Hin Lee (李秀衡) who came from a wealthy family in Hong Kong. Grace's father, Yin Cheung Lee (李彥祥), was one of the founders of Wing On Department Store in Hong Kong. One year after their wedding, Grace came to Sydney with Harry and they lived on the top floor of 18 Campbell Street, Haymarket. This three-storey building, which was used as an office and for employee accommodation at that time, had been rented by Wing Sang in 1904 from Anthony Hordern & Sons, who owned a major department store in Sydney, and was purchased from them in 1931. From 1912, Wing Sang's head office was located at 58 Hay Street, a three storey warehouse owned by the Sydney City Council in Haymarket (the building was demolished for the construction of the Sydney Entertainment Centre and the site is now part of the Darling Quarter). Harry and Grace had six children, Albert, William, May, John, Gordon and Keith. All of them were tertiary educated and pursued professional careers.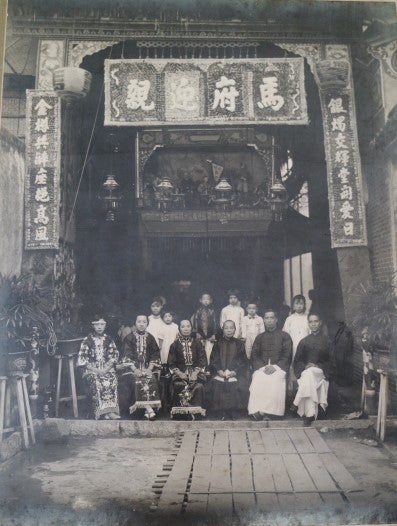 Harry Mar and Grace Lee's wedding at Shachong village (1929)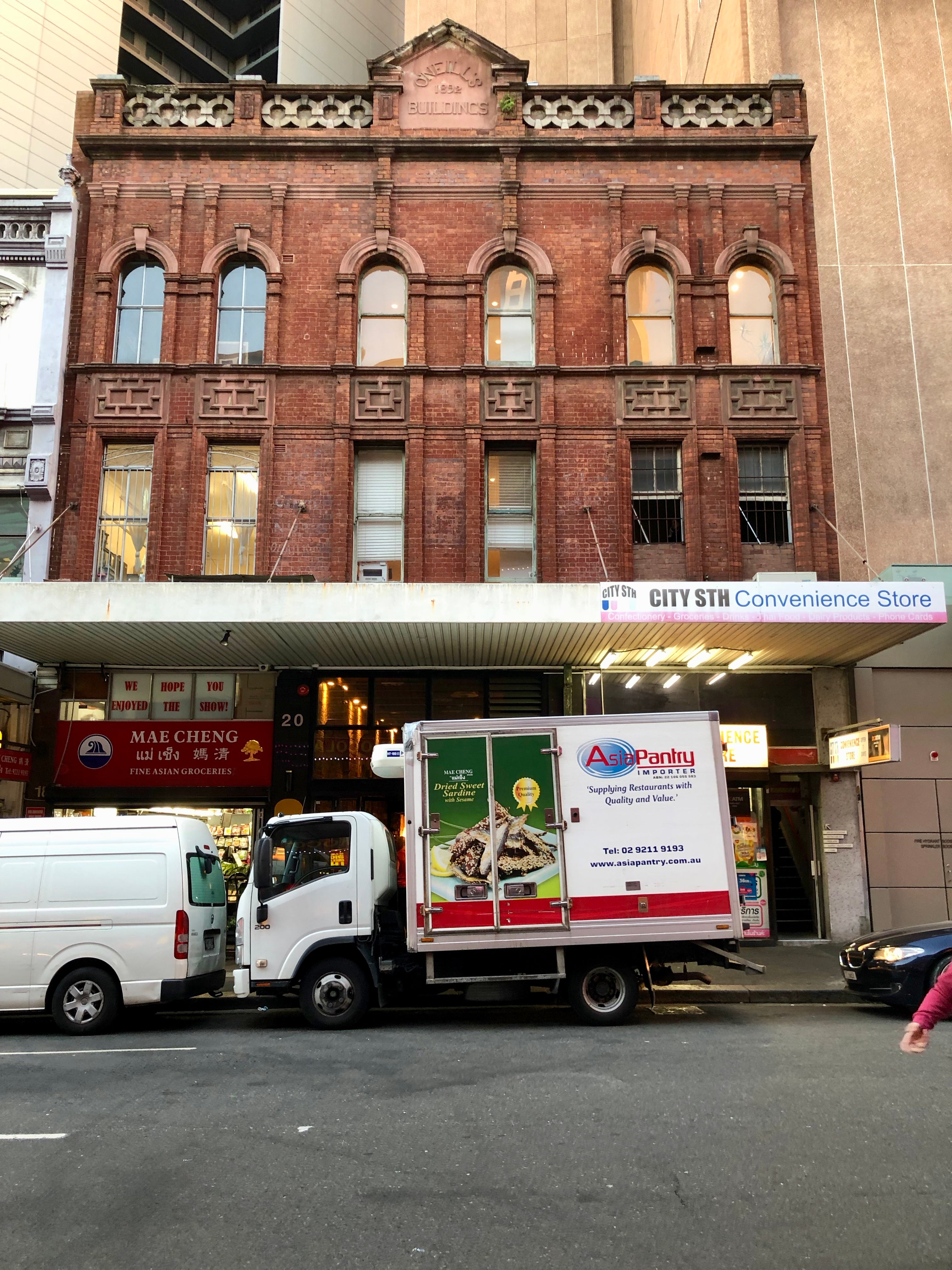 The 1890s building at 18-22 Campbell Street, Haymarket. Wing Sang occupied the building in 1895. No 18 was on the left side of the building (2019)
Gordon was a qualified accountant. He had worked in Canada for ten years before he returned to Sydney and began managing the business of Wing Sang after his father's retirement. Gordon said 'I was the one to take over the business because the others [his siblings]were established in their respective professions…doctor, architect, dentist'. He arranged for the company to move to Flemington in 1975 and he sold the business of Wing Sang to some Italian buyers in 1984. He said, 'Eventually we decided that the banana business was not for us, because the next generation is professional. We had no interest in selling bananas'.
Gordon used the proceeds from selling the business to develop a property. After that, the funds were distributed to the shareholders and the company was wounded up officially. Commenting on the ending of the nearly 100 years of Wing Sang, Gordon said he did not feel sentimental about it: 'It served its purpose. The purpose of the company was to bring our family to Australia, to find work, and that's what it did. The actual company, the business in the Haymarket, basically had their uses, because that's where the men who came from the village, lived there and worked there.'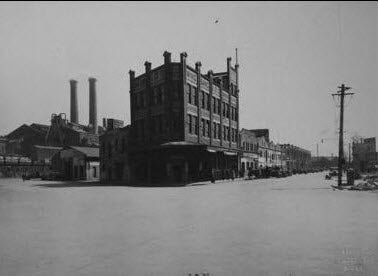 Wing Sang & Co's head office on 58 Hay Street (1937) (source: City of Sydney Archives)
As an entrepreneur himself, Gordon started his own wastewater treatment business in Castle Hill, a company that he operated for over twenty years before his retirement in 2007. He and his wife Sandy who is a Chinese-Canadian spend half their time in Canada and the other half in Sydney each year and also travel everywhere in the world.
China-Australia Connections
In a 2018 interview, Gordon said, 'We were raised as Aussies'. Although Gordon can speak Chinese in the village dialect, he hasn't spoken the language since his parents passed away. English is the language that he speaks with his wife and siblings and he is proud of the fact that his family has successfully 'integrated' into the Australian community. He stressed, 'We've become Australian'.
Gordon recalled that his connection with China was mainly through his father and his company, Wing Sang. 'For me, as a child, we went there, we went on weekends, we did a bit of work there, but that's where Father had his business. That was his headquarters. So it had nothing to do with us, but we knew, we had some kind of attachment there'. This connection was ended with the closure of Wing Sang.
Despite this, Gordon still keeps a large number of heirlooms at home. Apart from the family photo albums, he has preserved a phonograph that his grandparents brought out from China. He also has a, document from the Kuomingtang in Sydney requesting the protection of Harry Mar during his visit there in China in 1937. Gordon also has in his possession a large wooden sign of Wing Sang which used to hang in the company's building on 58 Hay Street. As Gordon is now in his 80s, he has been contemplating how he can pass on his family heirlooms. He said 'I have nobody else. No children, no grandchildren. Nobody is interested, so after I'm gone, my executor will say all these are garbage.'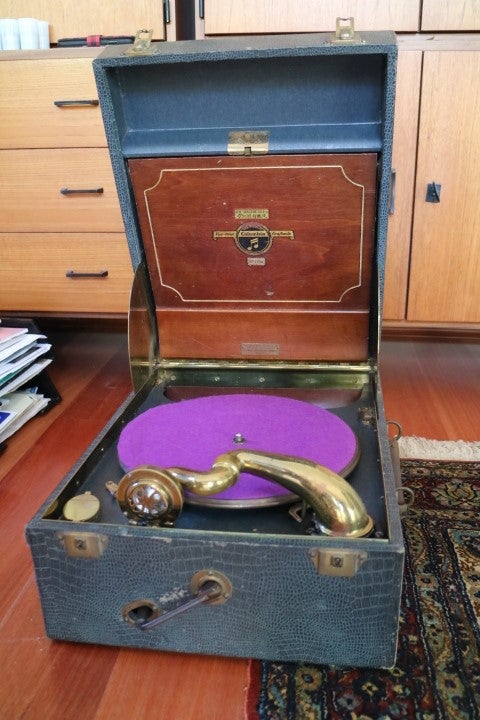 A phonograph brought from China by Sun Gee Mar and kept by Gordon.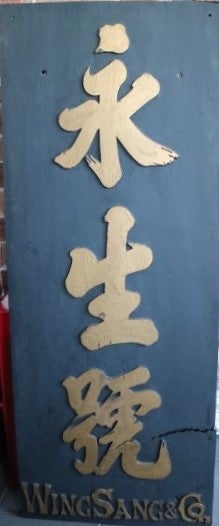 The wooden sign of Wing Sang & Co. The sign used to hang in the company's head office in Haymarket. Gordon has kept it in his home after he sold the business
Gordon is interested in contemporary Chinese history. He is a member of the Chinese Australian Historical Society and is keen to share his knowledge about China to public audiences. As he put it, 'Just to create a greater understanding of who we are, and our background and our culture'. Since his retirement, he has already given 230 public talks on topics about his family's history, racial discrimination against Chinese men, the Opium Wars, Chinese coolies during WWI and the Taiping Rebellion in China during the late Qing Dynasty, etc.
Return Journey
According to Gordon, his father Harry returned to Shachong on a few occasions after he came to Sydney. In 1929, he returned to the village for a year and had a grand wedding with Gordon's mother Grace Lee there. Grace did not seem to enjoy staying in the village, perhaps because of her privileged upbringing in Hong Kong. Harry also visited China in 1937, in the same year that his father Sun Gee passed away (a document was issued by the Kuomingtang in Australia to request protection of Harry during his time in China). The records of the Australian Customs and Exercise Office show that he returned to Sydney with his three siblings in October 1938. Gordon believes his father never returned to Shachong after that.
The first time that Gordon visited China was in 1997 with his mother and his brothers, John and Albert. His mother had been diagnosed with a terminal disease. Gordon and his brothers took her to Hong Kong and then travelled to the village to fulfil her final wish. Gordon explained, 'she felt it was her duty to bring her sons back to the village to be acknowledged.'
Talking about his first visit to Shachong village, Gordon said 'we didn't know what to expect when we went into the village; I thought all these relatives would want us to give them presents. But instead, the relatives turned up with big cars!' Gordon's relatives took them to wherever his mother wanted to go. 'The most important thing was to visit the cemetery. It was at the old cemetery which had been restored.' He continued, 'each of us had to stand in front [of the tomb] and be announced and give three bows to the ancestors'.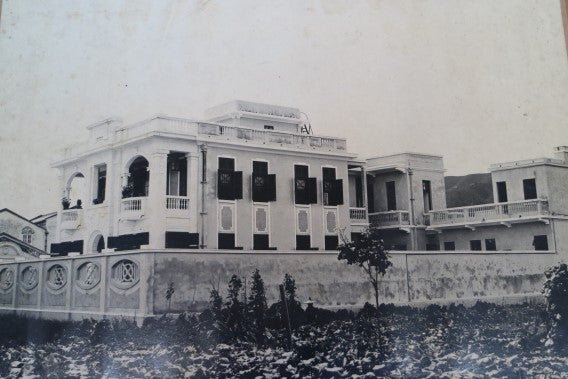 Gordon's ancestral home in Shachong village. It was a three storey stone mansion built by his grandfather Sun Gee in around 1935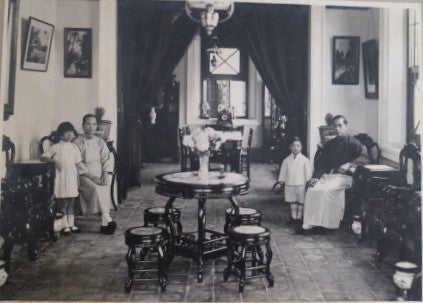 Gordon's grandparents and his uncle and aunt inside the family mansion in Shachong village (circa 1935)
Apart from visiting the cemetery, Gordon also inspected his ancestral house during this trip. In about 1935, Gordon's grandfather, Sun Gee, built a grandiose three-storey house just a few blocks away from Ying Piu Ma's Mansion. Gordon has inherited a share of about 10% in the house, as it was divided equally among Harry's five sons. In his 2018 interview he said that none of his siblings was interested in the grand mansion. Speaking for himself, Gordon said, 'I have no interest in it. We have been asked if we would like to donate it. Okay, you can have that house'.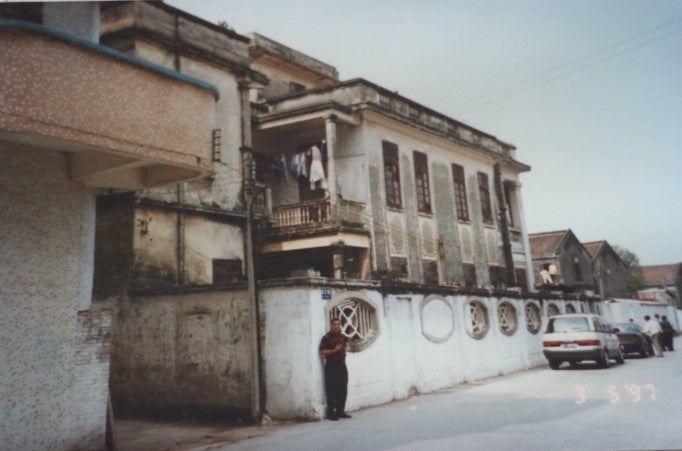 Gordon visited the family mansion in Shachong village 1997
The house was confiscated by the government during the land reform period of the 1950s to be used as a prison and it was subsequently used as a storeroom for farming produce. After the government returned it to the Mar family in the late 1970s, a relative had rented it out as a dormitory for female factory workers in the village (from the 1980s to the 2000s). More recently, the house has received a heritage listing by the government. The house is now looked after by an uncle in the village and it has been leased to an artist to be used as a gallery.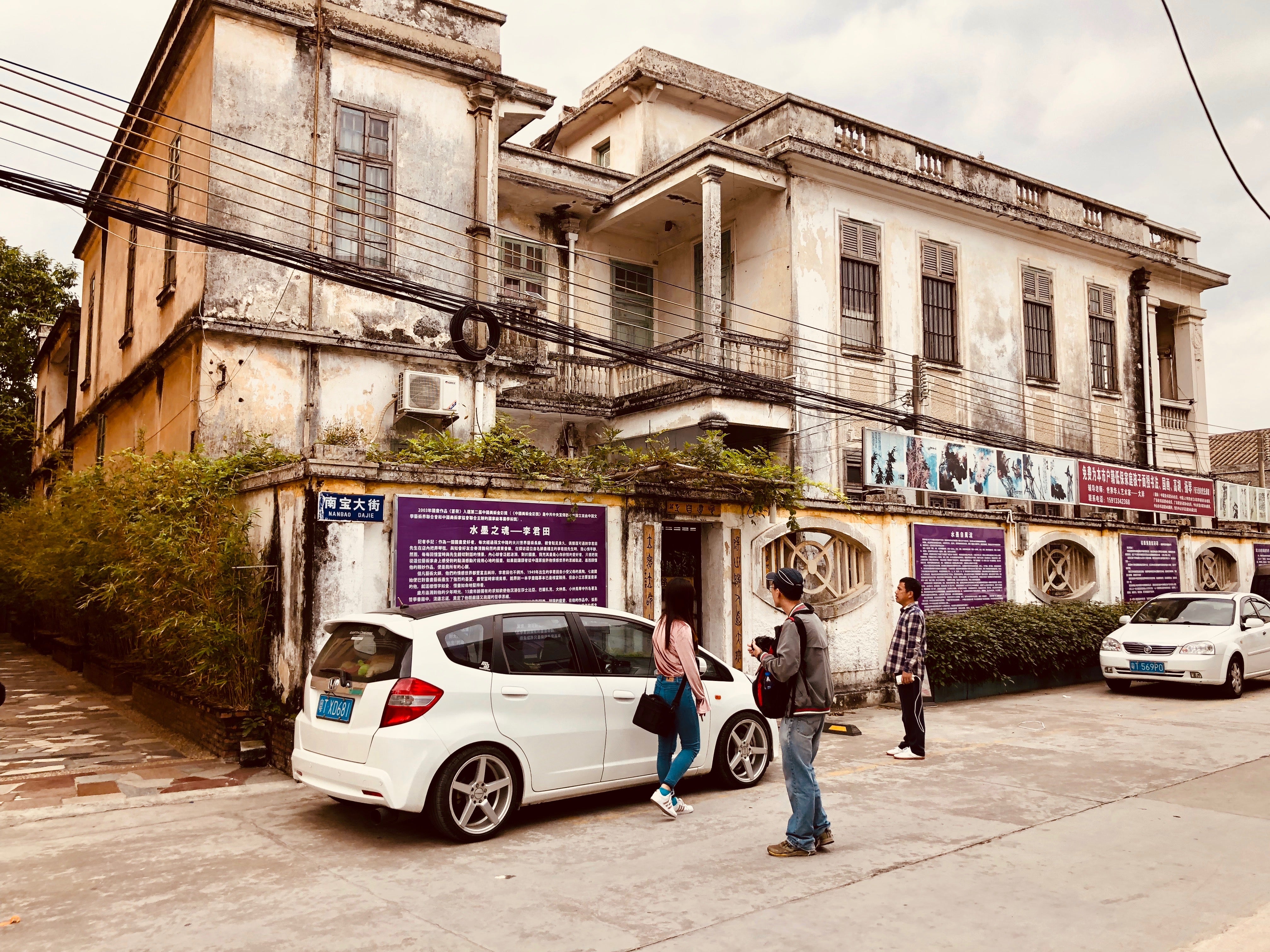 Gordon Mar's ancestral home in Shachong village (2018)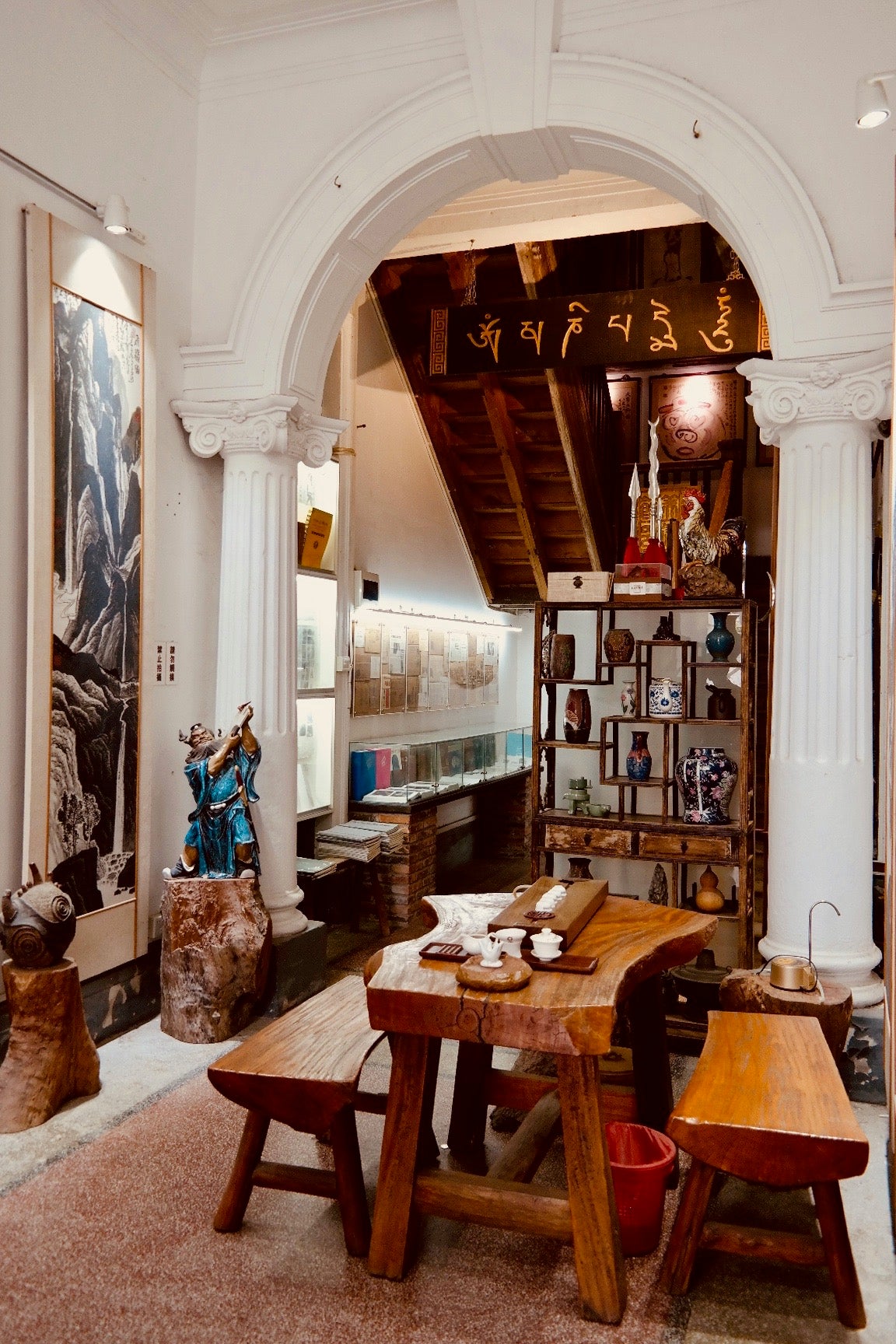 The ground floor of Gordon's ancestral home in Shachong. It has been turned into an art gallery (2018)
Gordon has not been back to the village after his 1997 trip, although he has been to other places in China a few times. Gordon only saw his return journey to Shachong as a 'one-off' thing and he has no desire to go back. He said, 'It was interesting to go and see, but not a place that I'd want to be, or I'd want to stay. But we did our duty to our mother, and that was her desire to take us there'.
Reflecting on that return journey, Gordon admitted that he did not feel any sense of attachment to the place. He said, 'I have none [attachment]. If I go, nobody in my generation will be there any longer. They've died out. The next generation is busy doing businesses, they don't want to see me. I have no more connections with them'. Talking about his 'Chineseness' and Australia-China connections, Gordon said, 'We really have been successful in assimilated as Australian'. While he treasured his Chinese heritage which he believed that 'you should never forget', he preferred not to dwell on the past but pay more attention to the present and future connections. As he put it, 'Be interested in what your people [Chinese] are doing for the world today, as nobody knows where this will lead.'