Stanley's father, Harry Hin Hunt, was born in 1902 in Sydney but when he was a child he returned with his family to live in their ancestral village of Mashan (southwest of Zhongshan) until he was 16. He returned to Sydney in 1918 where he worked in his brother's fruit and vegetable shop in Church Street, Parramatta. On a return visit to China, Harry married Leong Wun-Ginn of Doumen village in Zhongshan County.
Stanley was born Chan Pui-Tak in 1925 in Shekki, the County town of Zhongshan. He was educated there and in 1939 departed for Australia, via Hong Kong, with his mother and his younger sister and brother.
Mashan village and school
Mashan is situated to the south of Zhongshan and about 40 kilometres west of Macao. It is close to the Modaomen river estuary. Formerly the village was on the edge of the estuary but extensive reclamations mean it is now 2.5 kilometres from the water.
Although he did not grow up in Mashan, Stanley Hunt has been the main benefactor of the village school. In his book, From Shekki to Sydney (2009), he tells of his visit to Mashan in 1979 in the company of his wife, Val, and his father. During this visit he saw that the village children were going without a proper education due to lack of facilities, so he decided to build a school. The Mashan school, with 16 classrooms in a two-storey classroom block, The Sung-Sun Hall of Learning, was opened in 1983. Stanley named this building after his father. The whole village came to the opening ceremony and later a framed copy of the opening speech was donated to the school by the Chung Shan (Zhongshan) Society of Australia and now hangs in the library building. Stanley supported the school for many years before handing it over to the government.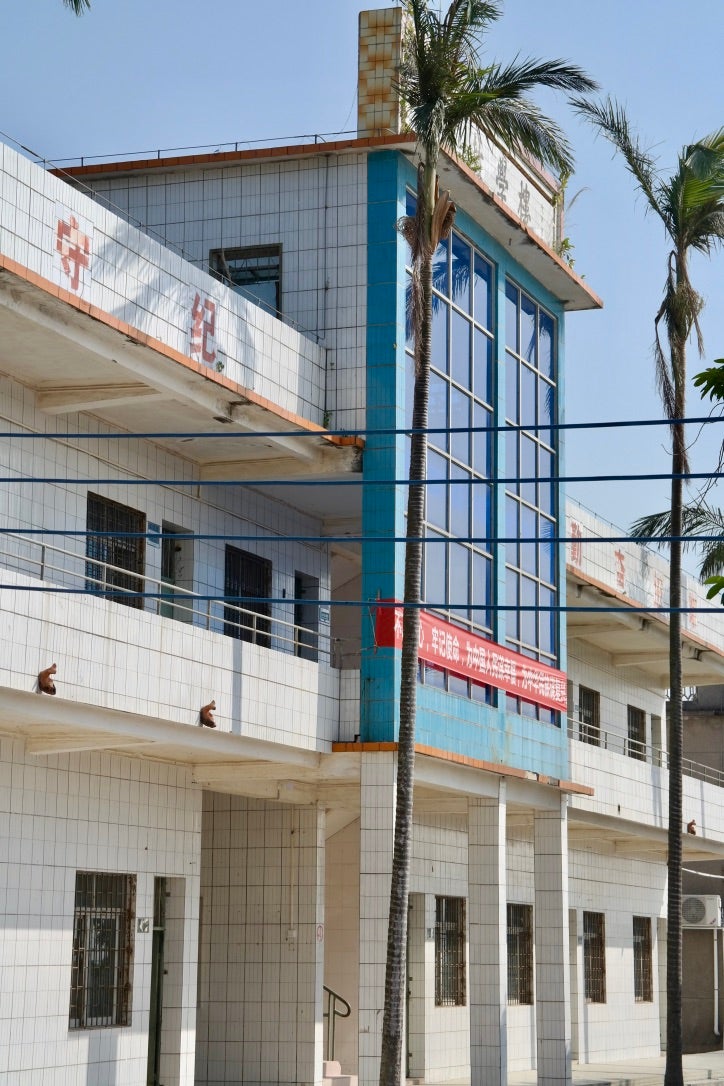 The school building constructed in Mashan in 1983 by Stanley Hunt
The flat-roofed classroom block was constructed of reinforced concrete and concrete blocks, surfaced with rock-dash stucco (stucco with fragments of crush rock embedded in it). Stanley reminisces that only inferior-quality construction materials were available in the early 1980s (China had only emerged from turmoil of the Cultural Revolution in 1976). In the 1990s a major renovation took place during which the exterior walls and parapets were covered with white ceramic tiles and a 'wall' of blue-tinted glass was inserted to cover the upper part of the stairwell. After the 2008 Sichuan the building standards for schools in China were upgraded and in 2012 a larger classroom blocks was built to replace. Currently the older building is vacant. In 2018 it is to be demolished to make way for a new 24-classroom building.
Two years after the Sung-Sun Hall of Learning was opened, Stanley and his five siblings contributed the funds to pay for the building of a school library, naming it the Wun-Ginn Library in honour of their mother. The building is still in use today as a library and computer lab. It retains its original grey rock-dash stucco exterior
At first, teachers for the school were recruited from the village but later, when formal teaching qualifications became a requirement, the government provided teachers for the school. A teacher's accommodation block was built next to the school running track, with the government and Stanley sharing the cost. Staley funded construction of the sealed running track, situated on a large flat terrace below the school buildings that had formerly been used by villagers for stacking the rice harvest.
A large paperbark (Melaleuca) stands in front of the school as a symbol of its Australian connections.
Stanley revisits Mashan and the school every year.
Warialda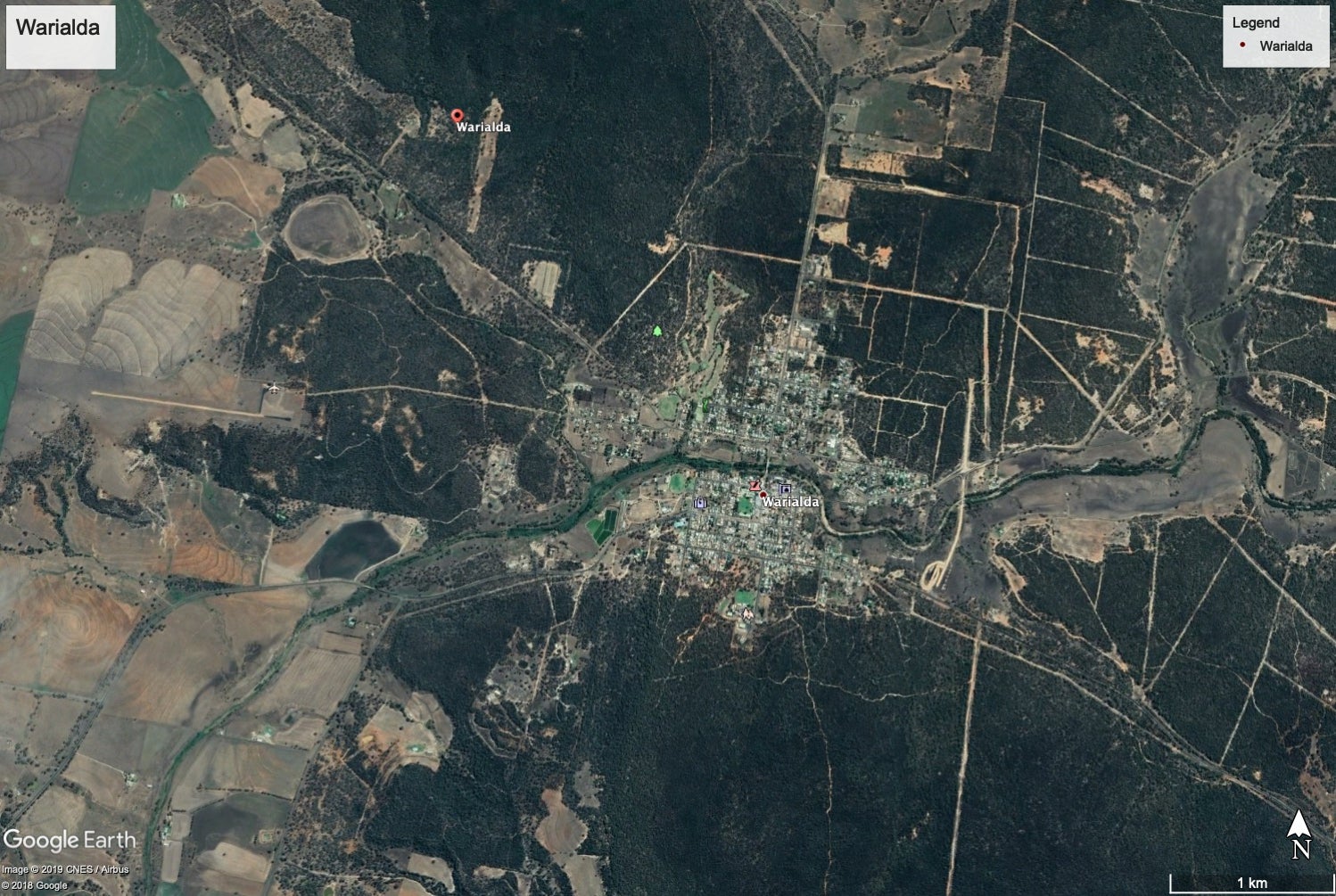 The town of Warialda on the Northern Tablelands of New South Wales
When Stanley arrived in Sydney and his mother, younger sister and brother went to live in Warialda, a small town on the northern tablelands on New South Wales, where Stanley helped out in his father's general store. In his book, Stanley describes life as a teenager in Warialda, delivering groceries on a bicycle, making and flying Chinese-style kites and selling some of them in the shop, and inventing new recipes for the 'ice blocks' they sold.
Stanley adapted well to life in Warialda. A few of the local kids "would call you Ching Chong Chinaman and all that," Stanley recalls. "That's nothing, we were Ching [of the Qing Dynasty 1644-1912) in the old days." Despite barely knowing the alphabet when he firstly arrived, Stanley went to the Catholic school in Warialda where he learnt English very quickly with the help of one of the nuns, Sister Bernadette, who tutored him after school hours. "We continued our friendship until she died, in about 1990, in Adelaide." Apart from running the general store, Stanley's family also bought a market garden in Warialda from an old Chinese man who had been sick. Stanley was 16 years old at that time. He drove a horse and cart to sell vegetables from town to town and house to house. "My mother was horrified at me taking the horse out, but she finally gave in and let me do it. I had a lot of fun on the horse."
He returned to Warialda for a visit in the late 2000s with his sister, Dr Mabel Lee, and his younger brother and his wife. They found that the shop had burned down but a welcome morning tea was put on for them which 50 to 60 people attended. Stanley met some of his old school friends. "We got a big write up in the paper."
Sydney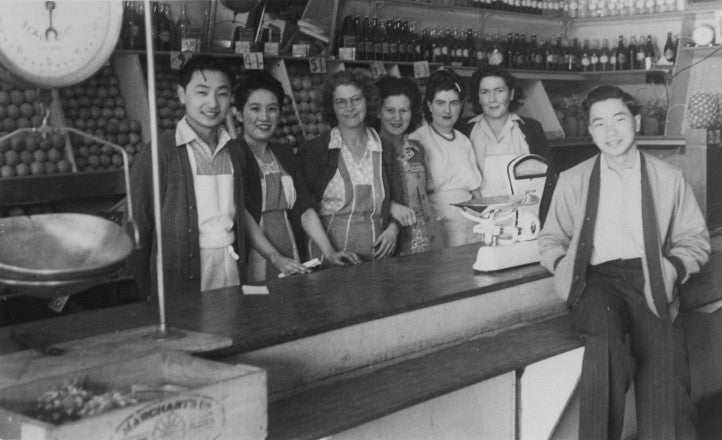 Stanley Hunt (1st from left), his brother (1st from right) and his employees at Auburn Fruit Shop (1951)
In early 1945 the family moved to Wetherill Park, Sydney, to a market garden Stanley's father had bought. It was a struggle to make it profitable and later in that year Stanley began running a fruit shop in South Parade, Auburn, for his father and he made such a success of it that he was soon employing 28 people. In 1956 he opened "Stanley's Gift Store", also in Auburn. Later he owned three motels in Sydney.
Stanley has retired and continues to live in Sydney. He makes frequent visits to Zhongshan.