Stanley Yee, Yee Kam-Fong(余金晃), the son of an immigrant to Cuba in the 1920's, was born in Quanlu village, Dachong District of Zhongshan. Stanley studied at a secondary school in Macau where he had moved with his family after he finished primary school in Zhongshan. He came to Australia in 1962 as a student to study Year 10 at De La Salle College, a high school in Ashfield, Sydney.
While studying in Sydney he also worked part-time at a banana wholesale company in the Haymarket (Chinatown), saving money to buy a truck in Hong Kong to work there as a truck driver. He usually got up at 3 am, worked at the wholesale fruit market in Haymarket from 4 am till dawn, then worked as a delivery man from 9 am-5 pm, after which he helped out in the kitchen at a Chinatown restaurant from 5 pm -10 pm. His hard work has earned him the nickname 'Iron man of Chinatown'.
He graduated from high school in 1967 and, in line with Australian immigration rules at that time, he had to leave the country after he completed his studies. In 1971 Stanley married May Ho Yee (黎美好) a woman from Dongguan, not far from Zhongshan County (Guangdong). As she was an Australian citizen he was granted permanent residency. After the wedding, Stanley and his wife travelled to Macau for six months.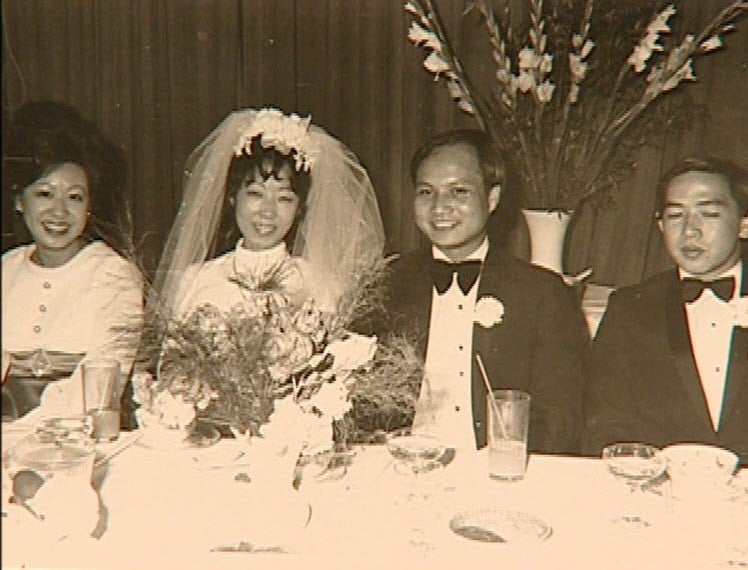 The wedding of Stanley and May Ho in 1971
Upon Stanley's return to Sydney in 1972, he worked as a chef for Chinese style barbecue meat and then opened a small restaurant with a friend and began operating two cafes with his other friends. In 1974, he bought a tofu factory from an old Chinese man and started his own brand, 'Yat Bun Tofu'. Although tofu not being widely known in Australia at the time the business eventually did well.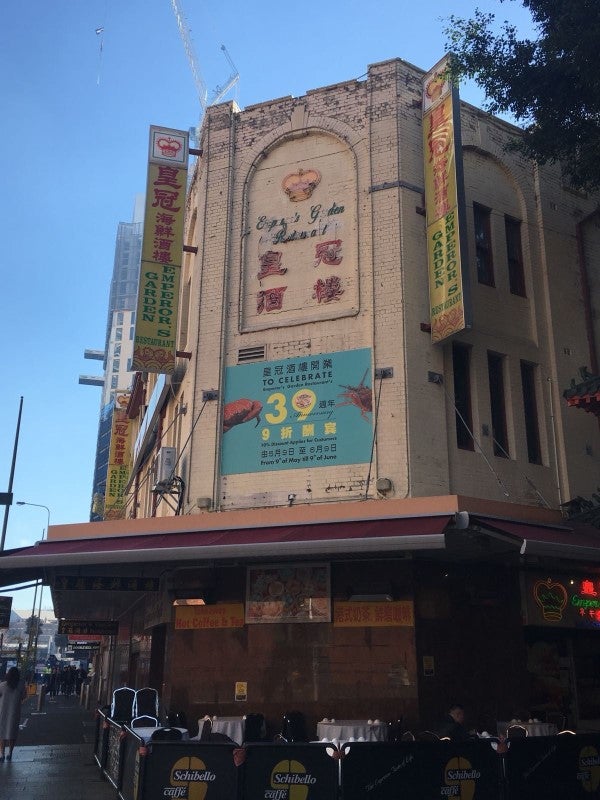 Emperors' Garden Restaurant in Chinatown
In 1979, Stanley started Emperor's Garden Chinese Restaurant in Chinatown. The success of Emperor's Garden was due partly to the adoption of multiculturalist policies in Australia in the late 1970s, which saw Chinatown become a popular tourist spot for local and international visitors. As well as the restaurant, Stanley owns a tofu factory, a barbecue food and noodle restaurant, a bakery and a butcher. Even in his 70s he is still helping out in the restaurant, although the day-to-day management of his businesses has been passed on to his two sons, Valentine Yee and Jonathan Yee. Stanley returns to Zhongshan and Macau two to three times a year to meet his friends and school mates.
Australia-China Connections
In Australia, Stanley is the Honorary Life Governor of the Australian Nursing Home Foundation and has donated generously to the nursing homes in Burwood, Hurstville and Ultimo, to provide aged care facilities for elderly Chinese people. He also supported cancer research through the University of New South Wales Foundation. He was awarded the Order of Australia Medal in 2007 in recognition of his contribution to the Chinese community. Being a Zhongshanese himself, Stanley has participated in and donated to the Chungshan Society in Australia and has been offered the title of Honorary Life President of the Chungshan Society of the Australia.
Quanlu Primary School, constructed in 1992, was donated by Stanley Yee and other overseas Chinese
Stanley provided the funds to build a library in Antang village, Zhongshan, in 1989, which was named after his mother. His biggest donation was in 1992, when he and a group of other overseas Chinese funded the construction of a new primary school in his home village, Quanlu. One of the teaching buildings of the school was named after his father 'Yee Gui Chun'(余桂春). He also contributed to the construction of the Quanlu community centre for the elderly and the Quanlu Kindergarten. When the kindergarten was later relocated, the original building became a private school for school children in the village who have migrated from elsewhere in China. He has also helped fund other schools in Zhongshan. Stanley was awarded the 'Honorary Citizen of Zhongshan' title in 2004 for his contributions to his home town.
Return Journeys
Stanley went back to Macau for six months in the early 1970s with his wife May Ho Yee and her mother. In the 1980s, after he started his own business, he would go back every year to buy stock from Hong Kong.
He did not have a chance to go back to Zhongshan until 1987, 25 years after he moved to Australia. In the recent years he goes to Zhongshan and Macau a few times a year, usually during Ching Ming Festival and in November to attend the 'Overseas Chinese Day' in Zhongshan.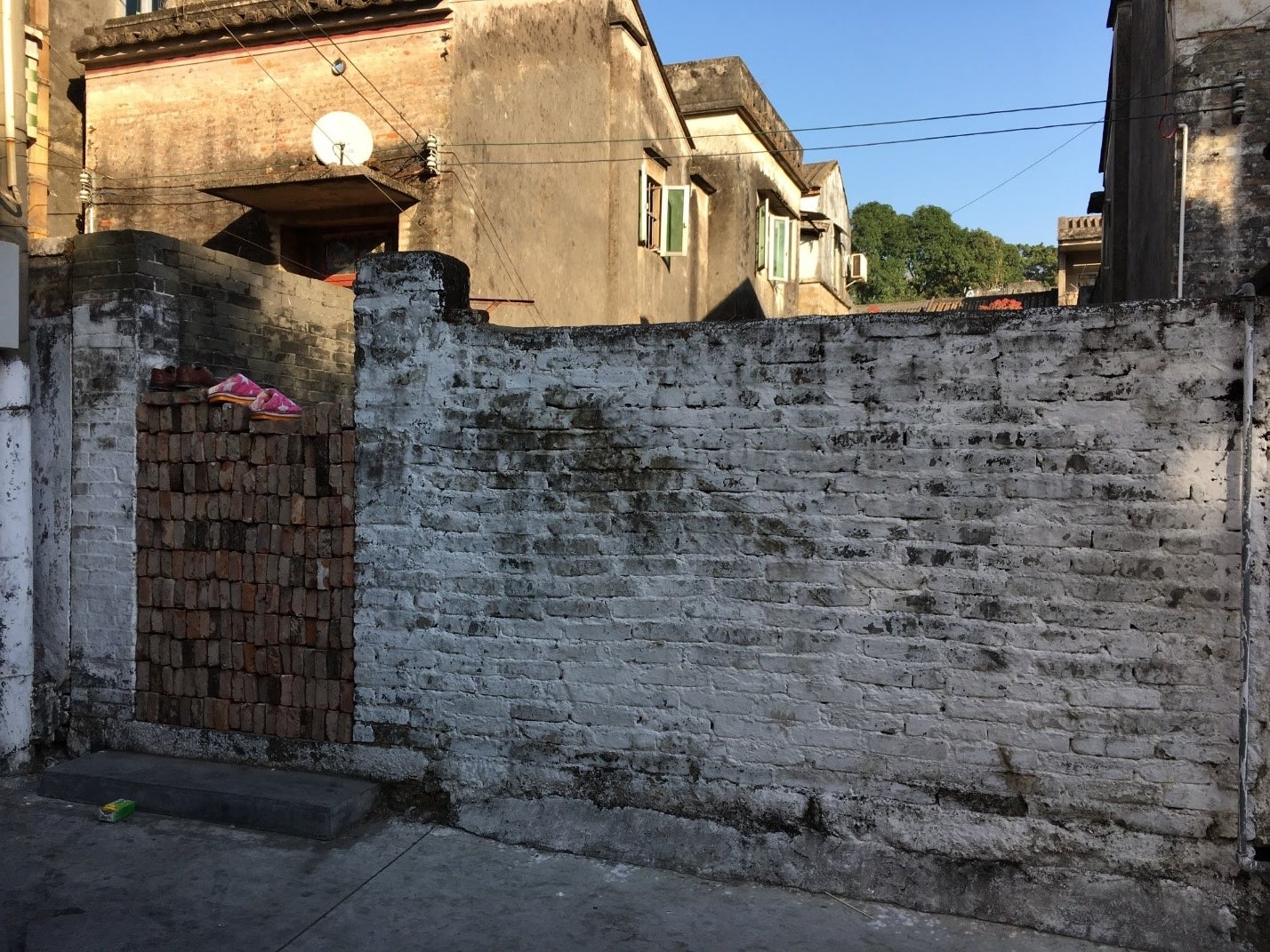 The site of Stanley Yee's ancestral home in Quanlu village (2017)
Stanley's ancestral house was bombed during the Japanese invasion in 1939. He declined an offer by village officials to help him re-build the house on the vacant block at their expense, saying he believes in 'giving, not taking'. Instead, he bought an apartment in Shekki to use as a holiday home for himself, his wife and his sons' families when they go to Zhongshan.