King Fong (方勁武) is a highly respected member of Chinese community in Sydney. His nickname is 'King of Chinatown'. He was born in Suva, Fiji, in 1938. His father Say Tin Fong, who was originally from Duntao village (Zhongshan County, Guangdong) migrated to Fiji in 1932 with his three brothers, his wife following him in 1935. The fact that Fiji was a British colony made it easier to migrate there if you went via Hong Kong. His parents had a mixed grocery store and milk bar in Suva. They manufactured confectionary, including Minties to sell in the shop and they had a farm with chooks, ducks and pigs. King received education in both English and Chinese (Cantonese) at the Fiji Chinese School which was built with donations from Chinese Fijian businessmen. There was also a small Chinese temple or shrine.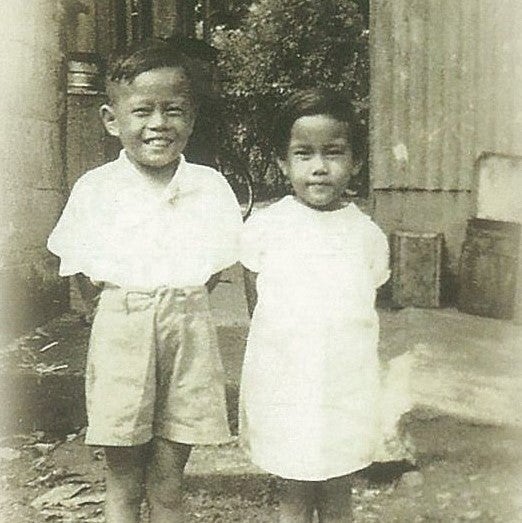 King Fong and his sister in Fiji (1946)
During the Second World War the Americans had an army base just opposite his family's shop. "So, every night I had the privilege of walking over to look at the war news reel, and in the day time while I'm at school they would come over and get lunch, hamburgers. They taught my mother how to cook hamburgers. And the better part is that it cost a dollar a hamburger and they give you a dollar tip." Because the Japanese had reached the Solomon Islands, King's father built an air raid shelter on their property.
After the end of the war, after living in Suva for 13 years, King's family decided to leave Fiji and return to China via Australia. They were allowed to travel to Sydney on an American warship that was picking up American soldiers from the base near their shop. There was one other Chinese family on board, from Lautoka (in Fiji). They arrived in Sydney on 18 March 1946 and stayed at the King Nam Jang boarding house at 85 George Street, near Circular Quay.
But after a week in Sydney they learnt from the Chinese Consulate General that civil war had broken out in China between the communists and the nationalists. His parents decided to stay in Australia on a 'merchant status' visa, which required them to import or export goods valued 10,000 pounds per year for 15 years before they could obtain permanent residency in Australia. King's family obtained Australian citizenship 15 years after they arrived.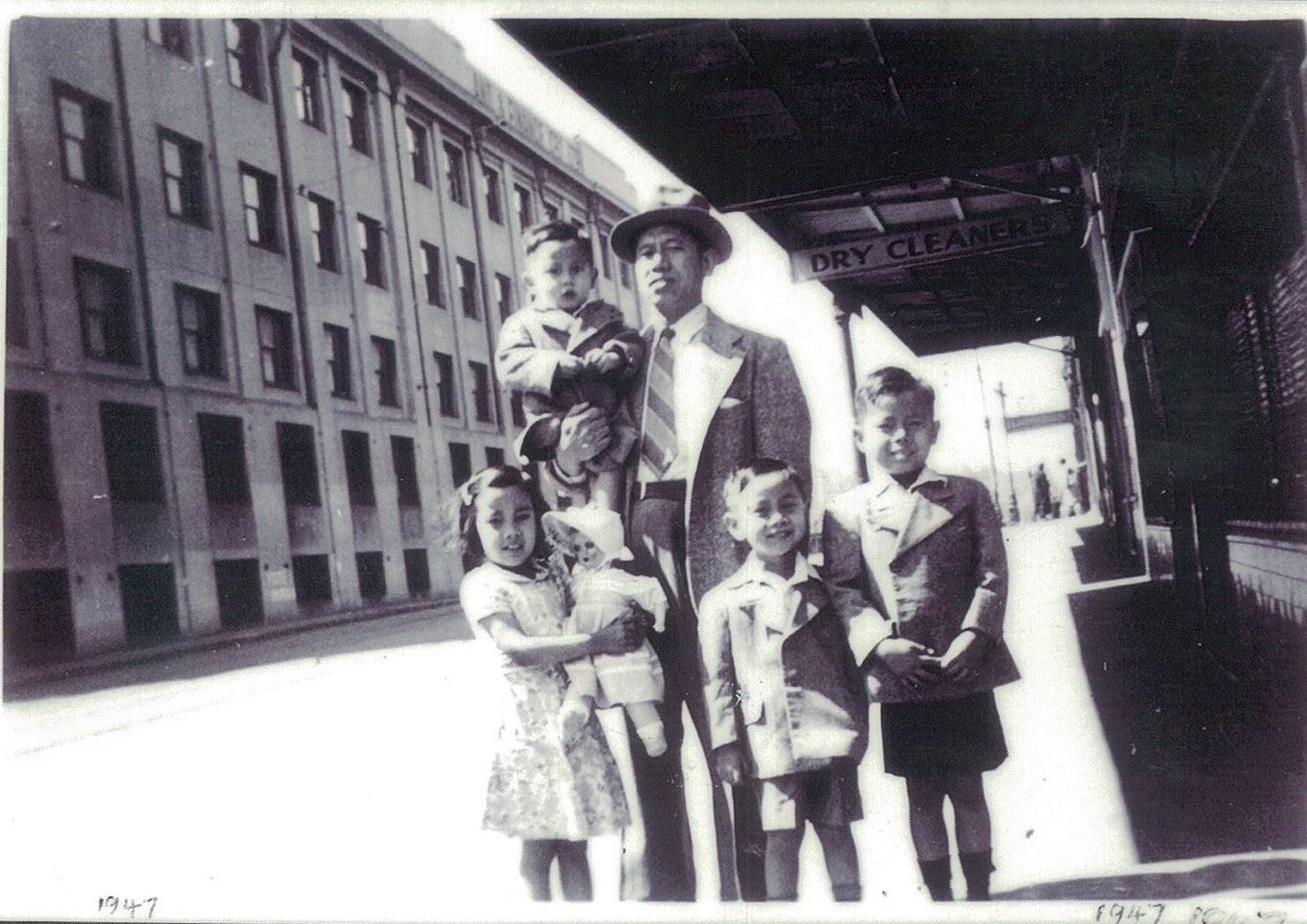 King Fong with his father and siblings outisde their fish and chip ship in Ultimo (1947)
King was eight years old when he moved to Sydney. His family bought a fish and chip shop at 475 Harris Street in Ultimo and lived in the upstairs rooms of the shop. Between 1946 and 1956 he studied at Ultimo Primary School, then at Glebe Central Junior High School and North Sydney Technical High School. King adapted well to Australian life. He was the vice-captain of the school rugby team at Glebe Central Junior High and enjoyed playing tennis with other, Australian-born Chinese during the weekend.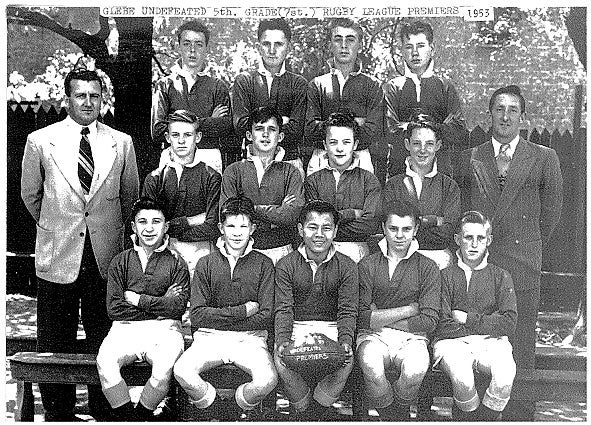 King Fong and his rugby league team mates from Glebe Central Junior High School (1953)
In 1949, his father opened Say Tin Fong & Co, selling Chinese groceries, kitchenware, and arts and crafts on a wholesale and retail basis. He first rented premises at 56-58 Dixon Street in Haymarket and in 1951 bought the building for 27,000 pounds. Although the shop was selling Asian groceries, the interior of the shop remained Western in style because the family did not have the money to renovate it to a Chinese style. His father renovated the upstairs of the building into a lodging house for Chinese male boarders. There were 92 rooms, each was 8 foot by 8 foot in size.
As the eldest son of the family, King started helping out at the store from the time he was in primary school. In 1954, he had a chance to meet the famous fashion model, Margo Lee, and posed with her in an advertisement to promote Chinese cooking utensils, including a wok. King was general manager of the store from 1958 until his retirement in 1986. The business had been running well, customers from different states bought from King's family store and he imported 200-300 cases of goods from Hong Kong each month. However, in 1985 the building was destroyed in a fire caused by a driver in an accident. King's family subsequently sold the building, which was turned into the Sussex Centre, a modern shopping mall in the heart of Sydney's Chinatown.
King married Kathy Kwok Fan Leong in Hong Kong in 1959. Kathy's grandfather was also from Zhongshan and had bought the Sam Kee & Company General Store in Tingha, on the northern tablelands of NSW. Kathy was born in Hong Kong but she spent her earlier life in Zhongshan.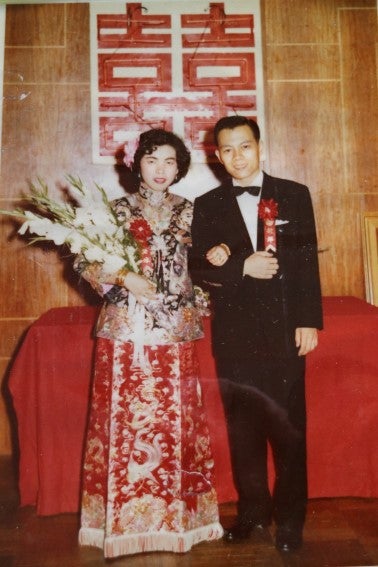 King Fong and Kathy Leong married in Hong Kong (1959)
Australia-China Connections
After 1949 and the establishment of the People's Republic of China they were allowed to send a 6 pound (about 3 kilos) parcel by ship back to their relatives once a month containing things like rice and tea. "A lot of the poor families got jealous. They said, 'The rich are getting richer.' So, certain days the officials when they delivered the parcels, they said, 'Can you share this with some of the poor people?'"
King has been involved in charity work with the Sydney Chinese community since 1960. Due to his fluency in English and good connections with the Chinese community in Sydney, he was invited to join the Sydney Chinese Chamber of Commerce. In 1975, he joined the Dixon Street Chinese Committee, which worked with the Sydney City Council to re-develop Chinatown in Dixon Street. He organised fund-raising campaigns to help build the Chinese-style ceremonial archways (with stone lions) and Chinese-style pavilion, which were officially opened in 1980. Since then, Dixon Street has become a major attraction to local and international visitors, Asians and Westerners alike.
In 1996, the Sydney City Council took the initiative to enlarge the Chinese New Year celebrations in Sydney's Chinatown founded by King and other Chinese community leaders. With the organisation of the City of Sydney, the Sydney Chinese New Year Festival grew into the largest Chinese New Year celebration event outside China, attracting more than 200,000 local and international visitors each year. The Sydney Chinese New Year Festival has also become a platform to showcase Chinese/Asian cultures and promote cultural and economic linkages between Australia and China.
As a descendant of a Chungshan (Zhongshan) family, King is an active member of the Chungshan Society of Australia (founded in 1982), acting as its president between 2000-2005. The Society now has about 1200 family members. He chaired the organising committee for the 5th Worldwide Chungshan Association Convention held in Sydney in 2004, a three-day event attended by 1,000 Chungshan descendants from all over the world.
King is the president of the Chinese Australian Historical Society and he has been conducting the Sydney Chinatown walking tour since 1980. In 1988 he was awarded with the Order of Australia Medal in recognition of his charity works and contributions to the Australian Chinese community.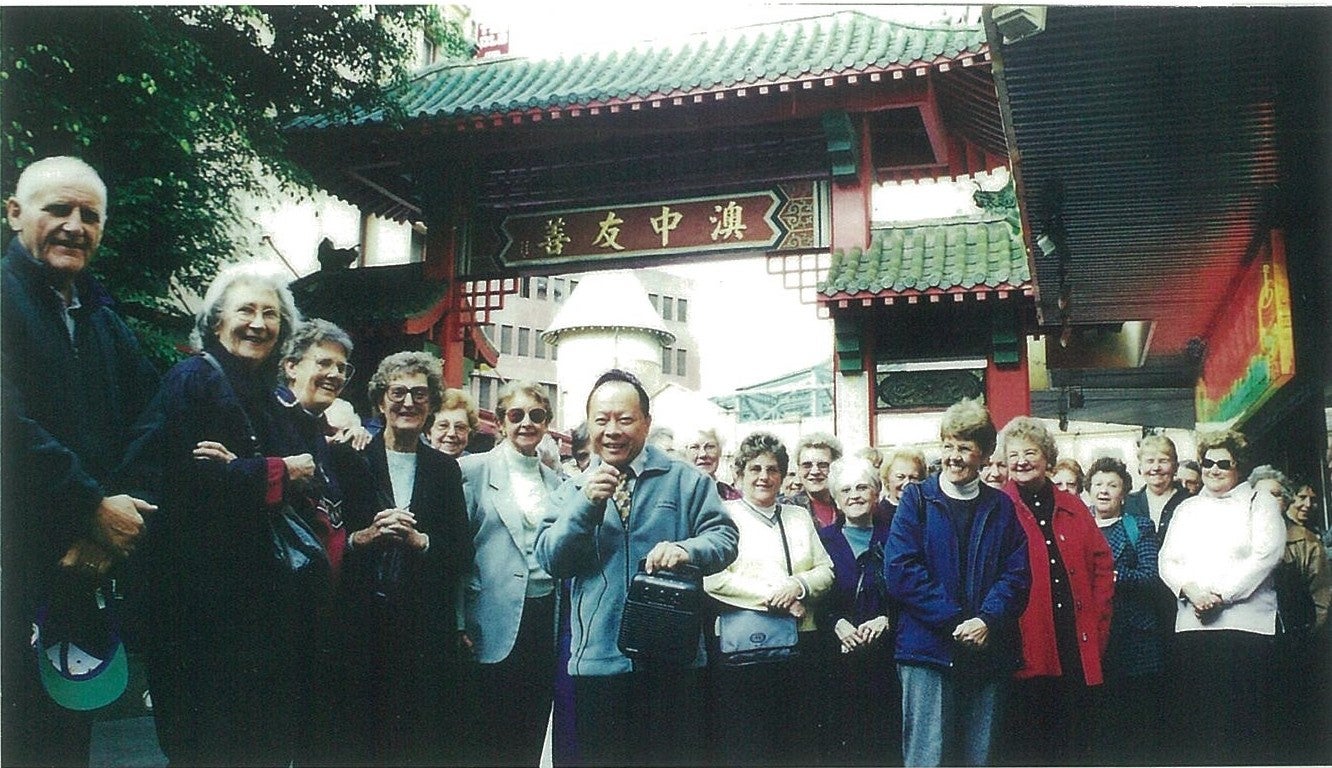 King Fong has been the guide for Sydney Chinatown walking tour since 1980s
Return Journeys to Zhongshan
Although King and his family visited Hong Kong many times, he did not get a chance to visit his father's home town, Zhongshan, until 1985 when King, Kathy and their children flew to Hong Kong and then took a ferry from Hong Kong to Zhongshan.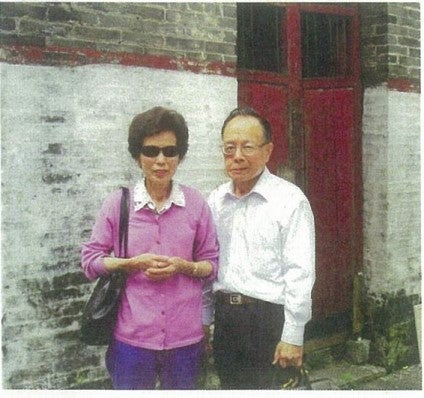 King Fong and Kathy Leong in front of the ancestral home in Duntao (2010)
During his trip to Duntao, his ancestral village, with his wife and daughters in 2010, he was warmly welcomed by his elderly cousins and fellow villagers. He visited his family home, which is a small one- storey brick house, and the Fong family ancestral hall which is located close to his house. The family home is now vacant and is being used as a storage space.